Wexford manager Liam Dunne has presided over an unbeaten start for his side in the Hurling League – and is keen to accentuate the positives that come from winning matches.
It's close to two decades since the Yellowbellies won their last All-Ireland – an era that saw them dine at hurling's top table – without a hint of insecurity.
The 2000s witnessed classic matches with Tipperary and Cork in All-Ireland semi-finals and a famous Leinster last-four meeting with the Cats that saw them snatch victory from the jaws of defeat.
In latter times the county has encountered a barren patch, though 2013 witnessed some green shoots with the U-21s reaching a provincial decider and the seniors giving both Dublin and Clare a few headaches in the Championship.
So far this spring, Antrim and Offaly have been accounted for in Division 1B. Dunne was pleased with the manner of the victory over the Faithful, considering the squad was short a number of regulars.
He told RTÉ Sport: "Our team did well without Tomás Waters, Eoin Moore, Garrett Sinnott, David Redmond and Podge Doran.
"We brought on two minors from last year in Conor McDonald and Liam Ryan. It's all about blooding new players and winning brings confidence. We'll take any win when we can get it!
"We're trying to get back up to where we were in the 1990s – competing with the big boys. Offaly are proud county as well and hopefully Brian (Whelehan) will get them to where they want to go.
"Liam Dunne has to look after Wexford. We've been in the doldrums. I have a group of players that are hugely committed and are looking forward to the challenges ahead. Last week we travelled to Ballycastle, which was nearly in Scotland.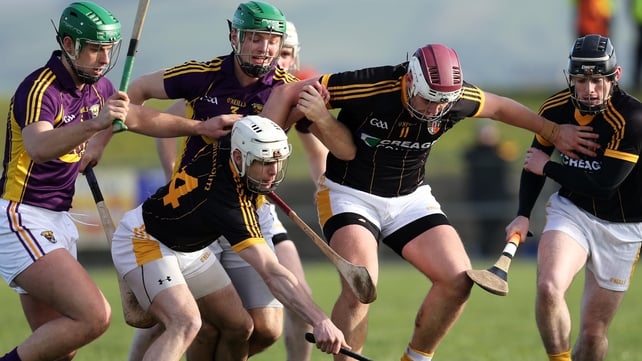 Upcoming we have to go to Limerick and Cork. Look, we'll travel any distance as long as we can get a win."
Reflecting further on Sunday's game in New Ross, Dunne praised his side for the way they used the elements.
He added: "I was pleased with the first half. To score 1-10 against the breeze was a nice cushion to have. After a shaky enough start to the second half we scored 1-05 in a burst which ultimately sealed the game for us.
"We came out with 2-19 and got a lot of scores from play. We need to brush up on a few things like missing simple frees which down the road could come back to haunt you.
"It was all about coming to New Ross to win a game and get the two points. We now have four points after two games which I'm well pleased with."