Clare corner-back Domhnall O'Donovan has recounted his last-gasp heroics that earned an All-Ireland Senior Hurling final replay with Cork.
The Clonlara club man landed his first ever Championship score in the dying seconds of the Croke Park decider, just moments after Patrick Horgan had given the Rebels the lead for the first time in the game.
He told RTÉ Radio 1's The Championship: "I think there was less than 30 seconds on the clock and Stephen Moylan had just taken a sideline cut that went wide.
"[Goalkeeper] Patrick Kelly had the ball in his hand and I saw open country in front of me so I thought my job as a defender was done for the day. If Cork scored it was over anyway.
"I wasn't looking for the ball but I just said I'd give Patrick Kelly the option – if he chooses to use me he can.
"I wanted him to hit it a few seconds earlier so I could maybe run on to it and possibly pop it over.
"It came a bit late and myself and Stephen had a bit of a battle for it. Patrick O'Connor got the ball into his hand and somehow found Nicky O'Connell.
"I think he got doubled-teamed then so he popped it out to me.
"I'd say he was hoping it was going to be Conor McGrath or Darach Honan outside him but I was out there.
"The reason I took the shot instead of passing it was because every pass you hit there's a percentage chance of it being intercepted or taken away.
"I said I'll go for it and I fell over as I was hitting it so it was the crowd that let me know it was over.
"Then, just in case Brian Gavin was playing a bit of extra time I just sprinted back."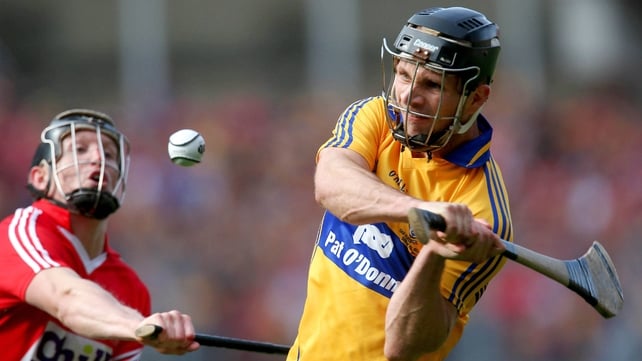 He added: "I was a bit concerned, especially when Patrick Horgan's point went over and then they had a sideline [cut] and it seemed like the clock was just ticking away and nothing was happening.
"It's the same as any other match, you just have to focus on the ball for the 70 minutes or the 72 minutes in this case. The game is never lost until the whistle is blown.
"I'd be given out to quite a bit if I attempted to take shots in matches because I've done it before and it hasn't gone too well. It was a great time to get my first Championship score."
The replay will throw in at 5pm on 28 September, the GAA has confirmed.