By Joe Dooley
What a game we had last Sunday between Cork and Dublin.
It had everything, including a great crowd that really got behind their teams, plenty of scores from play, level on 15 occasions and lots of talking points.
Dublin will be hugely disappointed to have let the game slip when they were getting on top mid-way through the second half, but fair play to Cork, who kept plugging away and got the vital scores in the end to seal it. Pat Horgan's goal was a great piece of individual opportunism.
Can Limerick and Clare serve up a similar game?
The answer is most definitely yes. Two great rivals and close neighbours, who will not alone be playing for a place in the All-Ireland final, but also for bragging rights down Shannon side.
An even bigger attendance is predicted for this afternoon and there will be plenty of banter between supporters. It should be a great occasion.
"Davy knows this could be the best opportunity to manage his own county to win an All-Ireland"
Limerick, as Munster champions, have built up a head of steam with two great wins at home over Tipperary and Cork.
If they can keep focused and continue to perform like they did in the province and up it a notch then they have a great chance of bridging a 40-year gap and bringing the MacCarthy Cup back to Limerick for the first time since 1973 - and not too many would begrudge them.
Clare on the other hand are showing great form following a second-round defeat to Cork. They will also fancy their chances of going all the way.
Davy Fitz and Co will talk down their prospects and cite how young and inexperienced this team is, but Davy knows that this could be the best opportunity he will get to manage his own county to win an All-Ireland.
Limerick - and particularly Clare - are both fielding very young teams and for many of the starting players this will be their first All-Ireland semi-final experience.
Playing in Croke Park in front of over 70,000 supporters will make this a huge occasion and a big test of character for all these young players.
My first All-Ireland semi-final experience was as a raw 20-year-old against Galway in Thurles in 1984.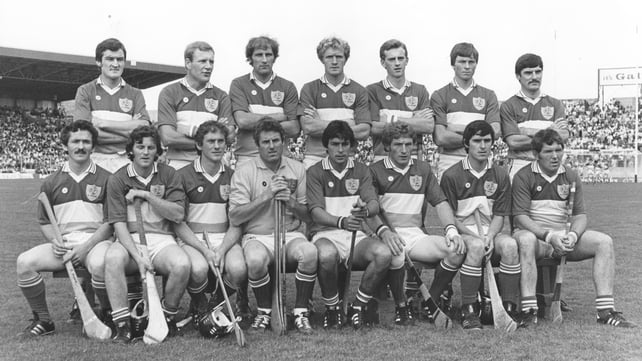 I was lucky enough with Offaly to go on and play in 11 senior All-Ireland semi-finals (including two replays), the last being a win against Cork in 2000.
They were all pressure games in their own right because when you win you get to play in the showpiece game of the year and all that goes with that including team holidays away, and when you lose you are basically forgotten about – you have trained up to the middle of August for zilch.
I can still remember that first semi-final experience in Thurles and the build-up very vividly.
I was very nervous on the morning of the game and can still recall pucking a ball over and back with fellow clubman Eugene Coughlan at the cross roads in Clareen on the morning of the game while waiting for the team bus.
The locals coming from second Mass were stopping to wish us well. Once we got out on the pitch in Thurles the nerves disappeared.
Luckily enough on the day the ball ran well for us and I got off to a good start and finished the day scoring 2-03 from play and we ran out easy winners. The legendary Michael O'Hehir did the TV commentary.
The feeling when the final whistle is blown and you realise that you are going to play in a senior final is absolutely brilliant.
It is every young player's dream from an early age to play in a final and you could see what it meant to the Cork players last Sunday after the final whistle.
I can also remember the bus journey home after 1994 All-Ireland semi-final win over Galway and the great sing-song and fun we had on the way down from Dublin with Johnny Pilkington holding centre stage.
The 1994 Offaly team had a lot of young players that had never played in a semi-final before, yet they all coped well with the pressure on the day.
I think if the team has worked very hard in training and everyone believes in each other then it makes it easier for all to cope with the pressure.
Both managers will be working hard to ensure that their players are as mentally well prepared as they can be to ensure that they perform to the best of their ability.
They will have them prepared mentally to be ready for the occasion, including visualising the bus journey into the ground, arriving at the dressing rooms, the roar when they come onto the pitch, the match parade and different scenarios that could transpire in the game itself, even the sending off of a player on either side.
Players most of all will be encouraged to express themselves.
The hurling championship in particular is receiving huge media coverage and there is no doubt that it is a big occasion and all you need is one or two players to be overawed and not perform to their ability and that can be enough to make the difference between victory and defeat.
Traditionally, Limerick would never have feared Clare but since the Banner made the breakthrough in 1995 they have probably had the upper hand on their neighbours.
Both teams will know one another very well with most having played with or against each other in the Harty Cup and with LIT and UL in the Fitzgibbon Cup.
This will lead to a fascinating game from a tactical point of view.
Limerick have been the more predictable in that their half-forwards tend to drop back for a period until the game settles before resuming normal wing-forward duties.
The introduction of some key replacements in the last 20 minutes has also worked well for John Allen.
How long you can stay doing this and it keep working is questionable. All players like to start if they think they are good enough.
Clare on the other had are less predictable as to where individual players will line out from midfield up.
Their game tactics are also difficult to counteract as they defend in numbers and burst forward with a running game supporting each other and mixing short passing with long balls into space when allowed to do so.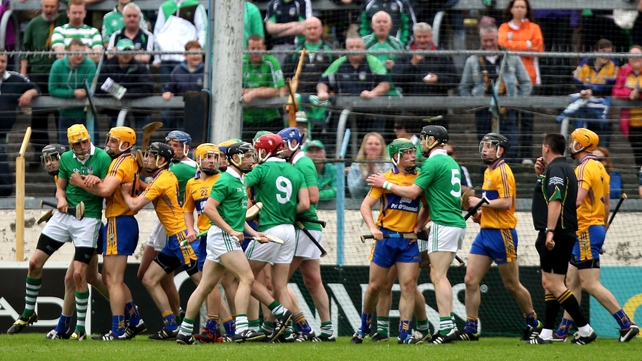 Limerick's backs have been very solid, conceding on average 15 points in both games.
Richie McCarthy is having a great year as are the half-backs of Wayne McNamara and Paudie and Gavin O'Brien.
Their captain, Donal O'Grady, is very strong and experienced in midfield and they have a hard-working forward line with Declan Hannon the main target man at full-forward.
They will also have huge support and should be coming into this game very fresh having only played two games with decent intervals between each game.
Clare are having a super year also which was boosted last week with winning the Munster Under 21 title with as many as 14 players on the senior panel picking up medals.
They have several really top class hurlers in their ranks including Cian Dillon, Brendan Bugler, Pat Donnellan, Colin Ryan, Tony Kelly, John Conlan, Darach Honan and Conor McGrath.
They also have strength in depth on their bench. Clare are well equipped to go all the way.
Limerick were very impressive in winning the Munster Championship and John Allen will have them extremely well prepared.
I expect them to tear into Clare from the start to try and unsettle them and to use their superior physical strength in key areas of the field.
Clare, with a young team, will also want to get off to a good start and put the Shannonsiders under pressure so that they can settle in to play their normal game.
The majority of the Clare players have played five senior games (one also went to extra time) and two U-21 championships games in the last ten weeks compared with Limerick's two games.
Clare are on a roll and are improving as the year progresses.
Logic would suggest Limerick but my gut feeling is that it will be the Banner to progress.  
Limerick: Nickie Quaid, Stephen Walsh, Richie McCarthy, Tom Condon, Paudie O'Brien, Wayne McNamara, Gavin O'Mahony, Paul Browne, Dónal O'Grady (c), David Breen, James Ryan, Seamus Hickey, Graham Mulcahy, Declan Hannon, Seanie Tobin
Clare: Patrick Kelly, Domhnall O'Donovan, David McInerney, Cian Dillon, Brendan Bugler, Patrick Donnellan (c), Patrick O'Connor, Colm Galvin, Colin Ryan, John Conlon, Tony Kelly, Conor Ryan, Pádraic Collins, Darach Honan, Conor McGrath 
Live television coverage of Limerick v Galway (minor) and Limerick v Clare (senior) from 13:15 on Sunday 18 August on RTÉ Two and RTÉ.ie (Ireland only). Live radio coverage of all the day's action from 14:00 on RTÉ Radio 1, RTÉ RnaG and RTÉ.ie (Worldwide).