Croke Park will be the setting for the end of Kilcormac-Killoughey's fairytale season after the maiden Offaly champions beat Thurles Sarsfields 1-20 to 1-14 in the All Ireland club championship semi-final at O'Moore Park.
There was little to call between the two sides in the first half and after Pa Bourke and Dan Currams traded goals, Kilcormac-Killoughey went into the dressing room 1-8 to 1-7 in front.
Four points in a row at the start of the second half stretched the lead but Thurles roared back and got within a point, 1-14 to 1-13, with ten minutes to go.
However worth his defence holding firm, Kilcormac-Killoughey captain Ciaran Slevin struck four points in the closing stages to seal a famous victory for his club.
The Tipperary champions came into the game as the unbackable favourites and they started as the bookies and pundits expected, hitting three of the first four points, all from placed balls.
However they never got control of the battle for loose possession and in a game where spectacular high catches were few and far between, Kilcormac-Killoughey's hunger and aggression in the battle for breaking ball was crucial.
The two sides traded points throughout a competitive first half and while Pa Bourke looked sharp at the head of the Thurles attack, he still wasn't getting things all his own way against Ger Healion on the edge of the square.
John Grogan and Alan McConville were on top in the two corners and scores from play were rare for the Tipperary club. Denis Maher and Lar Corbett imposed themselves on the game at infrequent intervals from the two wing positions but neither looked comfortable striking for scores from wide angles and a couple of costly wides ensured that Kilcormac-Killoughey were never more than two points adrift.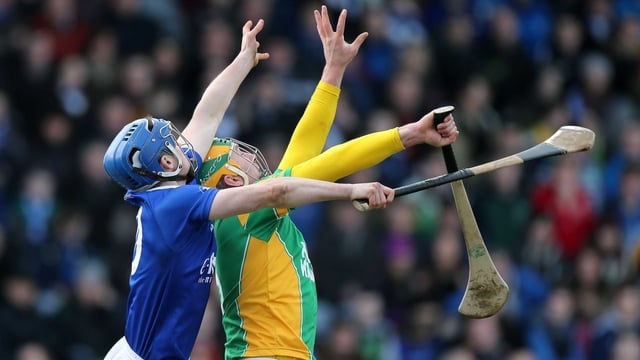 Kilcormac-Killoughey first equalised in the 25th minute after captain Ciarán Slevin, who ended the game with eleven points, converted a free that he won himself under the puckout.
Another Slevin free gave his team the lead for the first time, however the tide looked to turn back in favour of the Thurles men from the resultant puckout. Aidan McCormack pointed after the Thurles forward line forced a poor clearance from Ger Healion at full back, before Pa Bourke put the ball past Conor Slevin to give his side a goal lead.
Bourke fielded a high ball over Ger Healion before turning and striking an accurate shot low and into the corner of the net. This was the first goal that Kilcormac-Killoughey had conceded in nearly 240 minutes of hurling and they needed to respond in the right fashion.
They did just that almost immediately, narrowing the deficit with a long range Brian Leonard free before getting a goal of their own through Dan Currams just before half time.
In a mirror image of what happened at the other end, Currams won a diagonal ball over the head of Kevin O'Gorman and while O'Gorman's pressure forced the Offaly dual player to spill the ball, Currams got his ground shot away and it slid underneath Patrick McCormack, giving Kilcormac-Killoughey a 1-8 to 1-7 half time lead.
The underdogs roared out of the traps early in the second half and in the space of seven minutes they struck four points while their opponents hit three wides.
As was the case in the Leinster hurling final, a high work rate and constant pressurising and tackling of the man in possession was all important and several of Ciarán Slevin's frees, including two in this short spell, came after good work to force overcarrying from the Thurles players.
A side of Thurles' quality was always likely to come back into the tie and they did so from then until the 50th minute, reducing the deficit to a point, 1-14 to 1-13.
They could so easily have been ahead after a trip on Jim Corbett gave them a free from 22 metres out and Pa Bourke elected to go for goal.
His shot rattled off the crossbar and back out, giving the Offaly club a huge reprieve at a time when they were under intense pressure. Richie Ruth also could have had a goal when he doubled on Lar Corbett's long delivery but Conor Slevin was in the right place to make a crucial pointblank save.
A 53rd minute 65 from Ciarán Slevin broke the run of Thurles scoring and within moments the Tipp men were facing an uphill battle. First Peter Geraghty struck a beautiful point on the turn after being fed by Killian Leonard, then Leonard himself scored from close range after Dan Currams played the midfielder in with an astute handpass.
Two Ciarán Slevin frees rounded off a spell of five points in as many minutes for the Offaly side and once Sarsfields were reduced to chasing goals, nothing short of a miracle was going to prevent this fairytale season for Kilcormac-Killoughey going all the way to Croke Park next month.
Thurles Sarsfields: Patrick McCormack; David Maher, Kevin O'Gorman, Stephen Maher; David Kennedy, Pádraic Maher (captain), Michael Cahill; Michael Gleeson (0-01), Johnny Enright (0-02, '65s); Denis Maher (0-02), Jim Corbett, Lar Corbett; Aidan McCormack (0-01), Pa Bourke (1-05, 0-03 frees, 0-01 '65), Richie Ruth (0-01).
Subs: Ronan Maher (0-01) for Enright, Ger O'Grady for Jim Corbett, Michael O'Brien (0-01) for Ruth.
Kilcormac-Killoughey: Conor Slevin; John Grogan, Ger Healion, Alan McConville; Kevin Grogan, Peter Healion, Brian Leonard (0-02, frees); Killian Leonard (0-01), Damien Kilmartin; Ciarán Slevin (0-11, 0-08frees 0-01 '65), Conor Mahon (0-02), Peter Geraghty (0-01); James Gorman (0-01), Dan Currams,(1-01), Thomas Geraghty (0-01).
Sub: Chris Guinan for Brian Leonard
Referee: Colm Lyons (Cork)