Ireland 3 -0 Poland
Ireland made the perfect start in their Women's EuroHockey Championship qualifiers at the Sport Ireland Campus as they impressively swept past Poland 3-0.
The Green Army are up against the Poles, Czech Republic and Turkey with just one qualifying place up for grabs for the finals, which will be held in Germany in August 2023.
An opening win was imperative and they got it. Deirdre Duke opened the scoring in the second quarter with a deft touch to Katie Mullan's cross and Róisín Upton added her 22nd and 23rd international goals to put the result beyond doubt.
It put Ireland top of the group after day one following a 1-1 draw between Turkey and Czech Republic.
"It was always going to be a really tough game because we know the importance of these games and that brings a bit of stress. To get the result is really positive," said coach Sean Dancer.
Poland - ranked 27th in the world, 14 places below Ireland - were dogged and stubborn opponents.
In the first quarter, Michelle Carey and Hannah McLoughlin both had shots brilliantly saved by Marta Kucharska while Katie Mullan poked a chance wide.
Ireland went in front after 19 minutes when Duke finished off a move set in motion by Caoimhe Perdue and crossed by Mullan.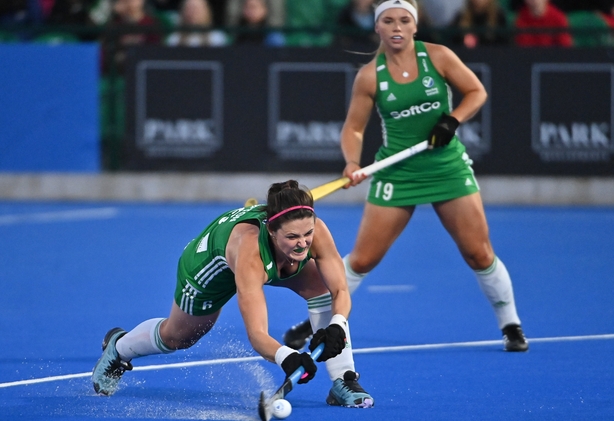 Upton then slung home a powerful drag-flick from the Green Army's second corner of the game to give Ireland breathing space.
Poland did fight back in the second half and had a couple of key chances which Ayeisha McFerran dealt with well.
Ireland missed on two glorious chances to make the game extra safe with both Ellen Curran and Mullan denied at point-blank range by sub goalkeeper Anna Gabara.
It left some tension in the contest until Upton sealed it in the closing minutes with another low bullet.
Ireland face the Czech Republic on Saturday morning in their second fixture of the tournament at 1pm at the Sport Ireland Campus before completing the competition on Sunday against Turkey.
Ireland: A McFerran, S McAuley, M Carey, R Upton, S Hawkshaw, K Mullan, H McLoughlin, L Tice, N Carroll, C Perdue, D Duke
Subs: N Carey, S Torrans, C Beggs, K McKee, C Hamill
Poland: M Kucharska, M Drozda, A Katerla, J Balcerzak, M Rybacha, M Polewczak, S Tatarczuk, W Blaszyk, B Strubbe, N Suszynska, D Mazur
Subs: M Czujewicz, A Szot, D Skoraszewska, K Diurczak, M Pabiniak, P Slawinska