Ireland 3-1 Chile
Ireland's men picked up a second successive win over Chile as they saw off the South American side at the Sport Ireland Campus with a fine second-half showing.
John McKee and Martin Rodriguez exchanged early goals to have it level at 1-1 and it remained that way into the second half before the hosts cut loose.
Kevin O'Dea took advantage of a near-in miscontrol to put Ireland back in front and then Callum Robson sealed the deal with a rocket of a first-time touch.
"Pleased, it was much better than yesterday's performance [a 3-2 win]," coach Mark Tumilty reflected on the tie.
"We played with more purpose and intent, especially in Q3. Q4 it became a bit too stretched and I think the players recognised that and over-carried the ball. It is progress and if we are winning at the same time, that's good."
Ireland now have two days off before facing world number 19 Austria on Saturday (3.30pm) and Sunday (9.30am), a busy schedule which Tumilty is grateful for following a quiet couple of years with Covid and a turnover of players.
"With this group, it is about getting them as many games as possible, up to 30 a year," he said. "The teams who are making progress and being competitive have 100-plus caps which we don't have many of unfortunately.
"It is a great experience to play against a South American style of play and it is a chance to take on a side going to a World Cup. They are a dangerous side, have a good aerial ball and give us a real challenge."
McKee got the tie off to a rip-roaring start with a gorgeous solo goal, his first-time pull inside beating his marker 40-metres from goal. He drove at the heart of the Chilean D, taking the space on offer to work a shooting chance close in and flicking into the bottom corner.
The lead, though, only lasted a couple of minutes with the visitors winning a couple of corners, the second of which Jamie Carr but Martin Rodriguez pounced on to nudge over the goal line.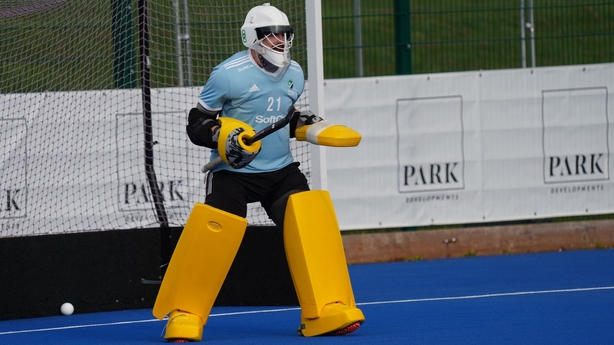 After that, chances were at a premium as the game settled into a tight battle. McKee fired the best opening over the bar while Sean Murray had a call for a penalty stroke turned away.
Into the second half, Ireland were more accurate and playing at a higher tempo. They went in front for a second time when Luke Witherow overlapped on the right sideline and his powerful cross fell invitingly for O'Dea to gobble up.
Conor Empey had two powerful blasts at goal blocked by Agustin Ayala while a couple of corner chances were also kept out. And Ireland moved further clear from Ben Walker picked up turnover ball on the 23-metre line and laid the ball into the path of Robson who swung first time on the ball, thumping in for 3-1.
Ireland looked the more likely to score again but had to settle for three goals and another small boost to their world ranking quotient.
Ireland: J Carr, L Madeley, T Cross, J McKee, C Robson, K O'Dea, K Marshall, S Murray, M Robson, S Hyland, N Page.
Subs: L Witherow, D Walsh, N Glassey, B Walker, J Lynch, C Empey, J Milliken.
Chile: A Araya, J Purcell, V Goni, Fernando Renz, J Maldonado, A Pizarro, J Amoroso, J Hurtado, A Toncoso, N Strabucchi.
Subs: A Amoroso, A Henriquez, M Rodriguez, K Gesswein, Felipe Renz, D Ordonez, A Valenzuela.