Ireland's qualification for the next Women's Hockey World Cup was vital for maintaining the legacy of Irish hockey according to forward Sarah Hawkshaw.
She was part of the starting team that defeated Wales 2-1 in Pisa on Sunday to qualify for the 2022 tournament and to give Ireland a chance to build on a memorable run to the 2018 World Cup final.
It will be a first World Cup for Hawkshaw who was not part of the Green Army side that won silver four years ago but she told RTÉ Sport that there was a clear awareness of what was at stake during the qualifying tournament.
"This was probably the most important thing for the legacy of Irish hockey this year," she said.
"The World Cup in 2018 was fantastic but if we want to keep Irish hockey on the map, we had to qualify for the next one.
"We had an expectation on ourselves along with other people so we did feel the expectation which made it difficult but we just had to put it out there and do the job."
The European qualifying tournament in Pisa last week came at the end of a busy international season for Ireland after appearances at the European Championships and the Olympics during the summer.
"It was a long year of international hockey for us," said Hawkshaw.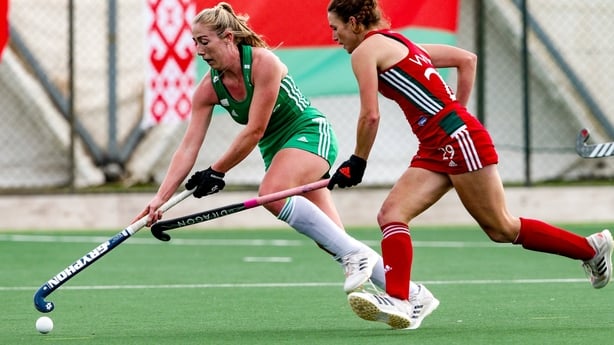 "We had the Europeans that ran into the Olympics and we were disappointed coming out of the Europeans. We really wanted to qualify out of that tournament but ended up finishing sixth which didn't help us.
"So it was lovely to end on this high and what made it even better was the fact that our families could come and watch it because they had had to sit at home and watch us on TV at the Olympics.
"So it was nice to finish off this year with them on the sidelines."
The 25-year-old admitted that the must-win tournament had tested their resolve as Ireland overcame France, Belarus and then Wales to book their World Cup place.
"It was always going to be a difficult tournament. We've people coming in from different areas at the moment, different years of hockey and getting it all together at the right time was key for us for this tournament and the teams we were playing against weren't going to give it to us easily," she said.
"They made it difficult and it was a tough, tough tournament to get through in the end."
Hawkshaw added that the 3-2 semi-final win against Belarus was the most difficult match for her personally.
"Personally, I found the Belarusian game quite difficult. It was a semi-final and they're always difficult to get through," she said.
"We were a bit nervous, you could tell from the start. They're a good side, they're very quick indoor-style hockey and they play a different style to what we play which made it more difficult to play against.
"So that was quite tough for me but obviously the Wales game in the end, they're a very physical side and they really put it up to us."