Normally, the Irish hockey team can focus on one main target in any given year but due to the Covid-19 pandemic, nothing is as it was meant to be in 2021.
On Saturday, they begin their Women's EuroHockey Championships with a fixture against the powerhouse hosts Netherlands in Amsterdam, before further pool games against Spain and Scotland.
But the tournament also doubles up as a World Cup qualifier with a top-five finish enough to secure qualification.
It doesn't stop there. Beyond the Europeans, the second of the twin targets looms - a first ever appearance at the Olympic Games in Tokyo.
So there is plenty to juggle in a relatively short space of time. But Ireland goalkeeper Ayeisha McFerran is intent on forging on with a winning mentality of not just looking to settle for minimum targets.
Speaking to RTÉ Sport ahead of the EuroHockey opener, McFerran says the Irish team will be treating both this month's excursions and Tokyo 2020 differently.
"We have to treat them differently. This (European Championship) is a World Cup qualifier and the Olympics is the biggest in any sport and we've made it. We've got there. Of course, we're going to have targets, we're going to want to win. But it's about going there and performing and just having fun with it," says the Red Bull athlete.
"We're going to have fun because it's when we, especially us as a team, play well.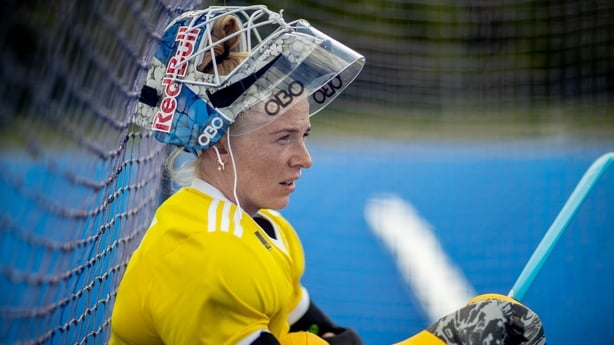 "It's definitely going to be - and knowing our coaches - 'we're going to win'. We're not going to say, 'Okay, let's just keep the score down, let's just survive the thralling of the Dutch'. No, absolutely not.
"We want to win, this is why we play. This is why we graft all those rainy, hailstone days in Abbotstown when everyone else is wrapped up indoors. This is why we do it.
"But we have to put in the performance first. It's all about the performance and that's key for us and we have to build ourselves into the tournament.
"You don't want to go gung-ho in the first game of the tournament and then fizzling off like a candle going out. It's not what we're after so it'll be an interesting one come the day, we'll find out on Saturday what happens."
The idea of not going gung-ho in an opening game is a lesson well learnt from Ireland's extraordinary run to the Hockey World Cup final in 2018.
The Irish team captured the imagination in London on the way to a silver medal, beating Spain on penalties in the semi-finals before falling short 6-0 against the Dutch when they could not replicate the levels of previous rounds.
Managing fitness levels for games in quick succession is something the team has focused on ahead of this year's two major tournaments, says McFerran.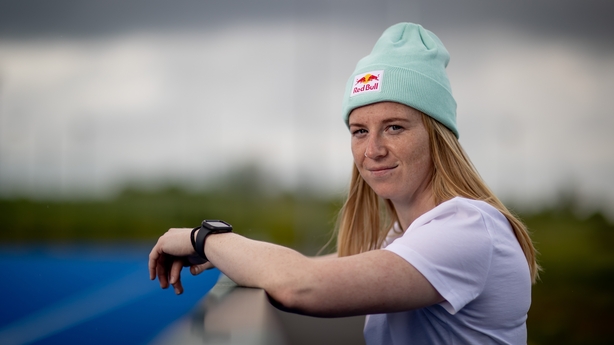 "I think the biggest thing for us that we kind of learned from (the 2018 World Cup) was fitness is key. Your fitness and your strength, kind of - I don't want to say mental stability - but your ability to park a game and move on is huge," the Co Antrim native explains.
"The fitter you are, the longer your body is going to last throughout a tournament and the more your body can last, the more you're going to be relaxed and be able to actually play, versus then we got to the semis and we were already tired. That was our final then.
"And then when we actually got to the final, you could tell we've never been in that position where we've had to play seven or eight games in a tournament, so I think for us, we've learned that physically we've improved ourselves to get to the point to get through a tournament.
---
Women's EuroHockey Championships 2021
Group A: Netherlands, Spain, Ireland, Scotland.
Group B: Germany, England, Belgium, Italy.
Irish fixture schedule (all games at the Wagener Stadium, Amstelveen in Amsterdam)
5 June: Ireland v Netherlands, 2.30pm
7 June: Ireland v Scotland, 11.30am
9 June: Ireland v Spain, 11.30am
11 June: Semi-finals/relegation pool
12/13 June: Medal matches/relegation pool
---
"But also the ability then just to relax, park each game, be able to review it but then move onto the next one and that just comes from experience of being in those positions. I think it will definitely help us come the Europeans and moving forward into the summer."
Netherlands will be opponents in both the EuroHockey and Olympic pool stages. Not only were they the team that resoundingly defeated Ireland in the 2018 World Cup decider but as a country they are a dominant force in the game, having won multiple World Cup, Olympic and EuroHockey gold medals.
McFerran knows the Dutch better than most, having played her club hockey there with Utrecht-based Kampong since 2019, and she feels there are clear cultural and structural reasons why they are such a power.
"Their basic level is so high. As soon as you can walk, you're in a hockey club. So when that is your culture, you're picking up hockey sticks from no age," she explains.
"But also their directness. They don't - I don't want to say apologise for making mistakes but it's not like if they mis-trap a ball they say 'Oh sorry, that's my bad'. No, they get on with it. It's the next one. They keep going after it.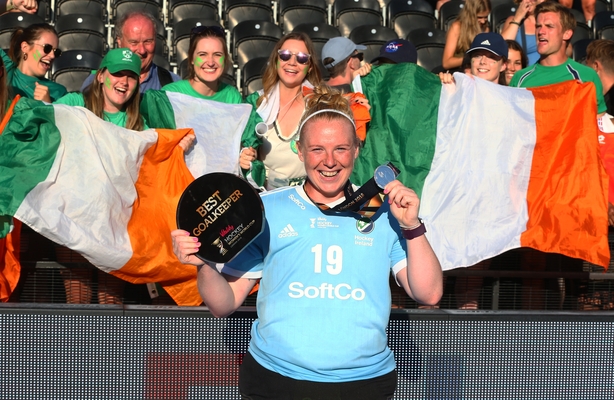 "They keep wanting to get better and keep wanting to be number one and I think having that mindset allows them just to keep driving themselves forward. It's very cut-throat but in a good way."
The 25-year-old has also found herself in a good place at club level after a difficult few months earlier in the season when she was being rotated in and out of the starting goalkeeper position.
But a coaching change saw her firmly established as Kampong's number one and means that previous "rocky" period has been consigned to the rear-view mirror just in time for important international commitments.
"The club season this year, you could say, was interesting," says McFerran.
"It just was a mix of different coaching perspectives and the coaching change allowed myself and the team just to play more free. I play my best when I'm relaxed and having fun, playing free, doing what I know I can do and not being questioned on my abilities.
"I think that has also helped me come back in to the Ireland team. I know I'm playing well, I'm comfortable with what I'm doing and I know I'm in a good mindset with how everything is going.
"So ultimately, it was obviously good for me, like I was playing all the games so I'm not going to be mad about that. But it definitely was a rocky year, I learned a lot, both hockey and personally, but come the end I think it's put me in a good place."
And now surrounded by her Irish team-mates in her adopted home for the European Championships, a sense of normality is returning for this weekend's start to a helter skelter summer of competitive action.
"It's kind of nice in Holland, things have been coming back to normal. There's going to be fans in the stands so that'll create some normality," she says before reiterating the team's battle cry.
"For us, yes, World Cup qualification is at stake but we want to do more than that. We don't want to get fifth. We want medals, we want to win, and that's just who we are.
"As a squad, we don't want to go in just to say 'Yeah, we'll do the bare minimum'. Absolutely not. So we know what's at stake but we don't want to just do what's at stake."