Chloe Watkins believes that Ireland's Olympic preparations were "pulled from under us" as the coronavirus pandemic hit in March, however, the World Cup silver medal winner is convinced that the extra 12 months will ultimately aid the Green Army's quest at the Tokyo Games.
The Irish women's side were at an advanced stage of preparation for their first ever appearance at the Olympic Games when all sport came to a halt earlier this year, which means that their Games debut has been pushed back 12 months to the summer of 2021.
Ireland shocked the hockey world back in 2018 as they reached the final of the World Cup in London, eventually claiming silver at the prestigious event, falling to the Dutch in the final.
And despite going through a coaching transition, they maintained their momentum and secured Olympic qualification in an equally exciting double-header with Canada last September, coming through after a penalty shuttles shootout on a dramatic night in Donnybrook.
Australia native and former New Zealand coach Sean Dancer took the reins last summer following a very successful stint by Dubliner Graham Shaw, and qualification allowed the Irish side to put all their focus on the 2020 Games.
By March of this year, competition for places was high and selections were imminent before the Covid-19 crisis kicked all plans 12 months further down the road.
Watkins, like all Irish sports people, was isolated from her team-mates as the country shut down and, left to her own devices, she had to maintain fitness levels, while waiting on news of the Olympic Games.
The postponement would come soon after the pandemic kicked in, and Watkins pressed pause for some welcome respite, taking comfort in the day-to-day routine of her full-time accountancy job.
But now, five months on, Watkins drew real comfort earlier this week as the squad returned to communal training, albeit Leinster-limited at present, with similar workouts taking place in Munster and Ulster.
"It was a strange few months training on your own," said Watkins, speaking to RTÉ Sport.
"It was great to get back on the pitch with the girls from Leinster - hopefully we can all come together as a national squad in August.
"I really missed the social aspect, as you are with the girls every day of your life and then suddenly you are by yourself, stuck in your house, so it can feel a bit lonely and it was a bit difficult from that point of view.
"I went back to my day job with Mazars and that was fantastic, as mentally I just needed to switch that focus, and it was nice to smoothly get back into the run of work and to maintain some sort of routine for my day."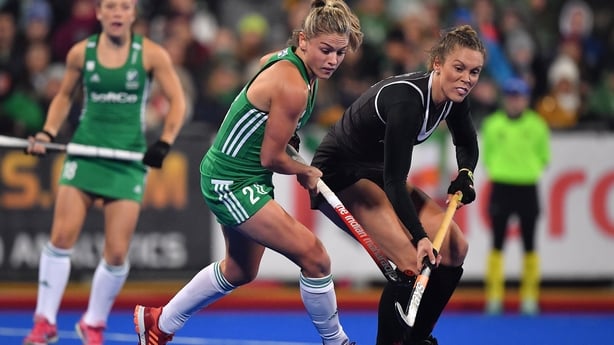 Such is the nature of team sport and the camaraderie it brings, Watkins said that once they were back training, it felt completely natural once again, aside from the remaining restrictions that are being adhered to in line with government guidelines.
And while it would take more than a few months apart to break the team spirit of a World Cup silver medal-winning side, Watkins believes that aspects of the break have benefitted the squad, as it forced her and her team-mates to become more self-driven throughout.
She said: "With everyone training remotely, it is a different challenge, you're not looking at the person next to you, trying to keep up with them, or trying to be out in front, it is just about pushing yourself and it's solely on yourself.
"So I think we have definitely become more self-driven over the last while, which is great and there will be a lot of positives to take from it.
"From a team point of view, we all just fit back into place and everyone was delighted and just buzzing, and having a bit of craic, which was nice.
"I gave myself a bit of downtime at the start of this as you couldn't put too much pressure on yourself mentally, and it has stood to me now because I am raring to go and excited at the prospect of hitting the ground running and getting back into training fully.
"It has given me more motivation to get back in the group and not take it for granted, being able to train with everyone. But nothing replaces training for the Olympics, so hopefully we can get back into full training soon."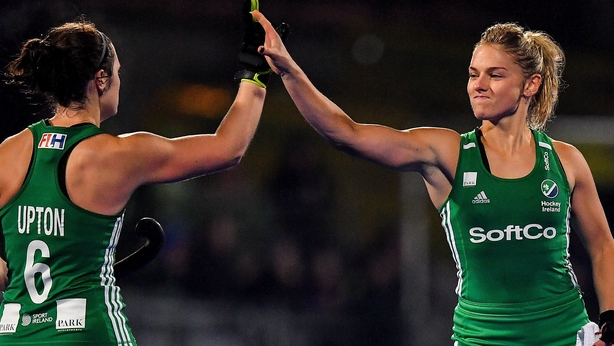 While that momentum that had carried on from the World Cup and on to Olympic qualification may have been halted somewhat during the Covid-enforced break, Watkins sees real benefits for this Ireland side as they now look forward to starting again and planning for the Games in the summer of next year.
Watkins believes the additional 12 months will really benefit new coach Dancer, who will welcome the chance to instill his beliefs and tactical style into his side by the time Tokyo eventually comes around.
"We were at a crucial point back in March as we had come through a really tough period of training from December and we were hitting the stage where we were going to get international games," she said.
"Selections were going to be made and we were kind of in the home straight coming up to June for the Olympic selection.
"Momentum was at its highest and then it all got pulled from under us, so it's been a definite change of pace, but having said that, having the time now to build back into light training is right, as you can't maintain intensity for 12 months of the year as you would be burnt out by the time the Tokyo Olympics come around.
"We can work it in our favour and use from September to December to really build into training and get contact time together, and then from January expect to play international matches, which will lead into the European Championships in May and June, which is perfect preparation for Tokyo in July.
"It could work out perfectly for us, phasing it in, and you could be peaking at the perfect time next summer, so you can only be optimistic about it really and make the most of the situation."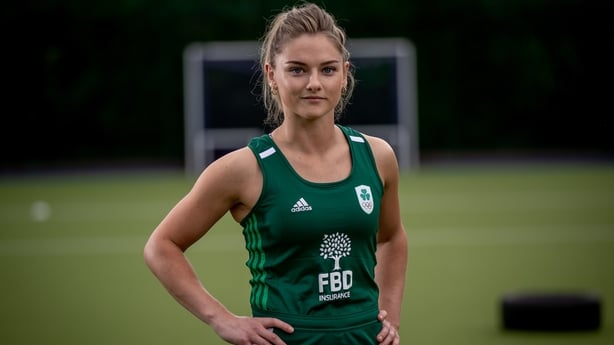 And part of that new plan will see some of the squad's fringe players really push for inclusion with some of the younger players having a year's more experience under their belt, which will also push the squad stalwarts to continue their improvement within the game.
A good headache for the new coach to have to contend with over the next 12 months, and Watkins welcomes the added edge within the squad, which she feels will ultimately benefit the side as they look for medal success in Tokyo.
"There were certainly a few younger members of the squad who had been putting in good shifts earlier in the year, so 12 months for them, I think they'll be delighted with it," explained Watkins.
"And it is a huge opportunity for them, 12 months extra of experience is just crucial when you are at that stage of your career
"So I do think that the team that would have gone this summer will be very different to what will go next summer.
"That's the challenge and it is only right. You need healthy competition, and we did have it. Things were up in the air in March and it was really tough to call. It will be really interesting to see what team goes next summer.
"It's just about staying fit and healthy and putting your best foot forward, and that's all we can do right now."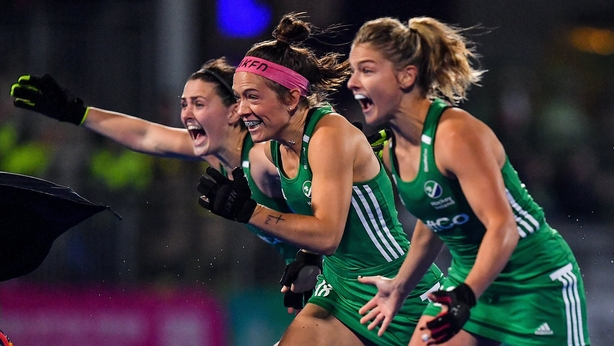 Ireland, of course, secured that silver medal in London back in 2018 under the guidance of Shaw, whose defence-focused tactics proved perfect as the side became renowned for their most organisation and work ethic behind the ball.
Dancer, on the other hand, has a penchant for a fast-paced, attacking game, and while the new man in charge had little time to work with his side ahead of that Olympic play-off, the additional 12 months will also ultimately stand to the side going into the Games next summer.
"He is probably delighted to have another few months to try to drive home his style of play," said Watkins.
"He wants to implement an attacking style of play, go forward, lots of running, that kind of thing.
"Traditionally, we have been quite defensive over the years, so it is definitely a change for us and it's a challenge, but another 12 months for him to drive that at training is great really.
"But you can't completely wipe the slate clean. Our defence has won us games and given us a platform to attack. It has kept top teams out and certainly our set-pieces were huge for us at the World Cup.
"I think we had the best defensive short-corner conversion rate in the tournament and that stood to us.
"So we have to maintain those standards with our defence and hopefully combine it with a more threatening attack, and that combination could be amazing."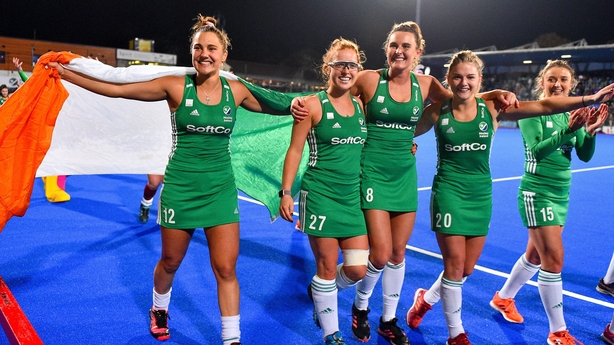 The side's success will bring with it added pressure to perform going into the Games, and the increased expectation is something that Watkins embraces.
That World Cup silver medal has driven the side on and it is an expectation that they now put on themselves, while Watkins would love to go one better in Tokyo and learn from past mistakes, where they lost the final to a top-class Netherlands side.
"That was the challenge to our squad and has been the challenge since the World Cup. There is a new expectation on our team now. We are not the underdogs and we have medal expectations, whether we like it or not even though this is our first Olympics ever.
"We all have high ambitions going to Tokyo and if other teams are still underestimating us, that's even better.
"You can only take each stage of the tournament, so we will focus on getting out of our group and into the quarter-finals, and we can definitely aim high and aim to get into another final.
"And who wouldn't want another pop at the Dutch? We learnt our lesson last time so it would be nice to get another chance to play them again."