Ireland hockey captain David Harte is still processing the team's "harrowing" loss against Canada and expressed bafflement that such an inexperienced video umpire was appointed to officiate the 2020 Olympic play-off.
Captain and goalkeeper Harte was ruled out of both legs in Vancouver with a late injury and watched as Ireland clung onto a6-5 aggregate lead in the closing seconds on Sunday night.
Right at the death, with the Canadians frantically searching for an equaliser, attacker Scott Fitzgerald took a tumble in the circle under close attention from Ireland defender Lee Cole.
The ball trickled wide, the umpires signalled play away, and the final whistle blew, appearing to confirm the Ireland men's team's place at a second successive Olympic Games.
As the Irish players embraced in celebration, the Canadians scampered to use their remaining video referral arguing there was contact, though Harte was of the view at the time that this was "clutching at straws".
Speaking on 2fm's Game On, Harte admitted to being stunned by the events that ensued.
"For a stroke to be awarded in the circle, first of all it was to be an intentional foul - and that comes to down to interpretation.
"And secondly, it can be only awarded if you've prevented a goal-scoring opportunity. Now, the Canadian striker who had made his way into the circle was heading towards the end-line and looked like he was going to run off it anyway.
"There was minimal contact from Lee Cole, our defender, with his feet or shoe by the looks of it, his stick was remaining on the ground looking at the interception, so nothing out of the ordinary really.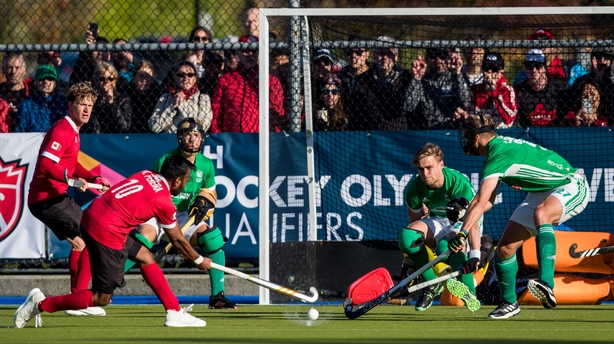 "To be honest, the way the Canadians were acting, they were just clutching at straws. They knew they had a renewal. The two on-pitch umpires had no decision possible other than it was a wide ball.
"The drama that ensued was something none of us were prepared for."
Argentinian video umpire Diego Barbas, after assessing the incident from the small range of angles available, dramatically decided to award a penalty stroke to the Canadians.
Canada scored it and proceeded to win the penalty shootout in sudden death, Ireland having frittered away a 3-1 advantage in that shootout.
The Barbas call has provoked a firestorm of controversy in hockey circles, with many, most especially Irish fans, disagreeing hotly with the decision.
Those who have defended the video umpire's actions have mostly admitted that they would have given a penalty corner rather than a penalty stroke, a move which would have presented the Canadians with a far less gilt-edged opportunity.
If I'm going to have my proper neutral hat on me, perhaps there was a penalty corner
Harte admits that a penalty corner would have been at least a reasonable outcome, and goes on to stress that Ireland are not alleging anything resembling a fix was involved.
Ireland's main quibbles are with the inexperience of the officials and the substandard nature of the technology.
"If I'm going to have my proper neutral hat on me, perhaps there was a penalty corner. There was a little bit of contact. A penalty corner, at very, very max.
"As an Irish team, we're not pointing fingers. We're not trying to paint Canada as a cheat team or say there was a fix. The most important thing to get across is that if the shoe was on the other foot, how would we feel if we got a penalty in the dying seconds? Of course, we'd take it and it'd allow you to keep your dream alive.
"The real underlying factor behind is that the FIH appointed an umpire to make his first ever appearance as a video referral man (for this game). That is something we can't get our head around.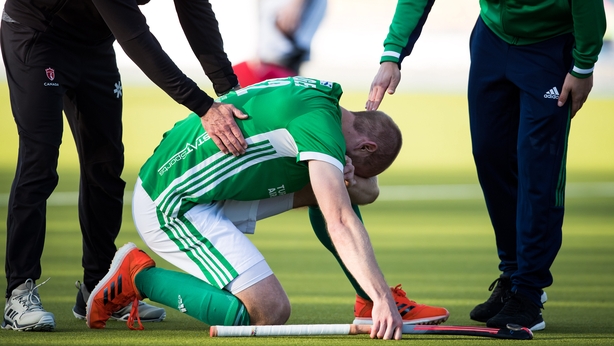 "I had deemed that the rules and regulations stipulated by the FIH, that when it came to hosting two such important matches, you had to have a minimum of 12 cameras. Judging what was seen in Canada, there couldn't have been more than four cameras, which was mind-boggling, to be honest with you."
Harte gave a picture of the distress among the squad when they landed in Heathrow Airport yesterday.
"Grown men without words, tears rolling down the cheeks. When I put out that tweet, I couldn't actually get the words out physically, I could only type them.
Hockey careers ended, Olympic dreams shattered & years (& years) of nothing but hard work & dedication from all players diminished... Honestly still can't believe what happened @FIH_Hockey !!! A decision that will carry pain for a lifetime - heartbroken!!

— David Harte (@daveyharte) October 28, 2019
"You have certain senior players hanging up their hockey sticks who won't wear the green shirt again. That's really tough to take. Guys you've been in the trenches.
"For their careers to finish on a note like that is really harrowing. There is a feeling of numbness. As the hours have gone, there's a feeling of frustration creeping in as well."
I can't see that being my final memory in a green shirt
While many are set for retirement, Harte says his current intention is to stick around. Though, he acknowledges that Sunday's event will hit men's hockey in the country.
"Personally, I can't see that being my final memory in a green shirt. For now, I can't say I'll be moving along.
"The knock-on effect that not qualifying will have, and the decision to award that penalty stroke, will have a huge impact on sponsorship. There will be a potential €1 million loss of services and sponsorship so that will have an impact on programmes moving forward.
"The biggest thing will be not be able to continue the legacy of the men's team that captivated hockey fans in the country in 2016 and inspire the next generation of hockey players. It would have been unbelievable if they were able to watch us compete in Tokyo but unfortunately that was ripped away so cruelly."