Defender Elena Tice admits that the Ireland Women's team will be looking to avoid the same fate as their male counterparts in their Olympic qualifiers this weekend.
Mark Tumilty's side were controversially denied victory, and a place at next year's summer games, when a late penalty was awarded to Canada by the video official in Vancouver.
Ireland went on to lose on penalties, with captain Jonathan Bell saying afterwards that the official involved should "hang his head in shame."
The women's team also face Canada over two games at Energia Park this weekend, and Tice told RTÉ Sport's Evanne Ní Chuilinn that there are lessons to be learned from the heartbreak in Vancouver.
"It's a good lesson; it's not over until it's over," she said.
"You just don't know how things are going to play out, or what decisions are going to go what way. When you [think] have the game [won], you need to stay calm and make sure you finish the job, which is far easier said than done.
"For it to end in the manner it did, I'm sure it will sting for a long, long time. Sport is incredibly cruel at times. I'm absolutely heartbroken for the lads. They're an incredible squad, so talented.
"You wouldn't like to see that happen to any other teams.
"We'll try to learn from all the other qualifiers that have gone on in the last few weeks, and use that to our advantage."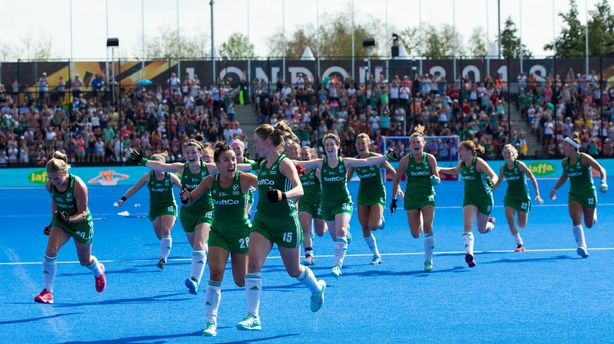 Tickets are selling well for the game, which has seen a pop-up pitch laid out at the stadium in Donnybrook. With work continuing this week, the players won't get a chance to test the new surface until Thursday.
Reaching the World Cup final in the summer of 2018 is still fresh in the players' minds, but Olympic qualification has so far eluded Irish teams down through the years.
Coach Sean Dancer named his squad on Monday, but Tice says they don't carry the weight of history on their shoulders.
"I wasn't part of the previous qualifier (in 2015), but you have to feed off the experience of the other girls," she says.
"We're incredibly hungry."
"Ultimately, it's just two games of hockey. We've played hundreds of games in our lives, so when we step over that white line, we'll just cling to what we know, and be confident in our preparation.
"It's pressure at its highest level, there's so much on the line.
"It's so exciting that the stands are sold out. Everyone I speak to says they're coming along, so we'll be close to full capacity, which is awesome."
Watch live coverage of the Ireland v Canada Olympic qualifiers from Energia Park on RTÉ2 and the RTÉ Player from 6:30pm on Saturday and Sunday.