Ireland head coach Alexander Cox insists that his side are fully focused on the Hockey World Cup clash with England tomorrow, and believes that the Green Machine have "nothing to lose" against their near neighbours.
The Irish men's hockey side go head-to-head with the English in their final Pool B encounter on Friday afternoon (1:30pm Irish time), knowing that a draw will guarantee a place in the knock-out phase of the India-hosted tournament.
Ireland currently sit third in their pool, on one point - ahead of England on goal difference - following their 1-1 draw with China, who are a point ahead in second place.
The Chinese have drawn both of their games thus far, but will come up against reigning champions Australia in their final game.
Should they lose and Ireland win or draw against England, Cox's side would go through in second place, which should result in a preferable cross-over match in the first phase of the knock-out stages.
"We were disappointed not to get more from the game against China," said Cox.
"All the statistics in terms of circle entries and shots on goal were in our favour but we didn't take our chances and you'll always get punished for that at a World Cup.
"The game against England is very important, as it was always going to be, for both sides. We know what we need to do and are entirely focused on that. We have nothing to lose against England."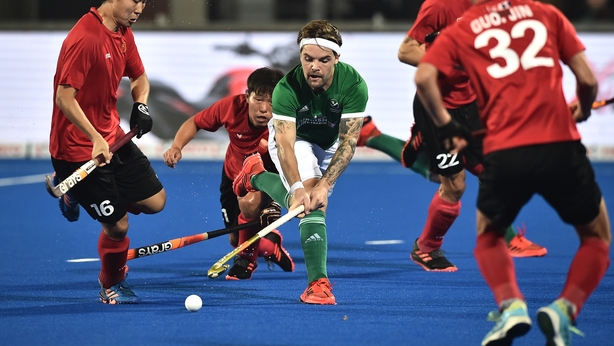 Alan Sothern grabbed the all-important equaliser against China in the last game and the La Gantoise forward said that the mood is very positive within the Ireland camp heading into this vital match.
"The guys are in great form and in good spirits and looking forward to the game," said Sothern.
"We do a lot of homework and watch a lot of video so we are very clear on what we want to do, and we have a good idea of what we think England are going to try and do.
"So it is all about us going out there on the pitch and implementing our game-plan."
Ireland can afford to be a bit more defence-minded for this final Pool B fixture with just a draw needed to advance, but Sothern insists that the team are just concentrating on the performance and not focusing on the result, nor the overall rankings, which would count towards Olympic qualification.
"We are not going out thinking about the result. We are going out with a performance in mind and if we can achieve the markers that we are setting for ourselves in that performance, then the result will take care of itself.
"We take each game as it comes and we are not thinking beyond this game on Friday."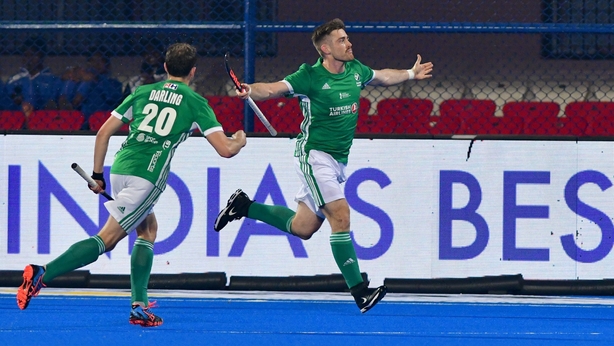 Ireland midfielder, Chris Cargo, also stressed that the mood in the camp has been good throughout and that the side were happy with their opening performance against the world champions, despite losing 2-1.
"We've played two games now, the first against Australia where I thought we put in a really good performance. China, we were a little bit disappointed but I thought we played quite well and created a lot but just didn't finish our chances off.
"But the mood is good, we believe in ourselves and we are looking forward to Friday."
Cargo admitted that both sides know all about each other ahead of this final pool game but the Newtownards native is confident that Ireland can emerge victorious.
"We played England twice in the build-up to this tournament. We know them pretty well, they know us pretty well.
"We have played each other in a few big matches over the past couple of years whether in the European championships or Olympic qualifiers.
"They obviously have a new coach this year but we are pretty confident that if we play our game, we can come out on top."
The game follows the other pool match between Australia and China, so the pool permutations will be evident ahead of the Ireland-England push back.
China will qualify if they can secure a point against Australia, or if England beat Ireland, while they can also progress if they can avoid a three-goal defeat to the tournament favourites.
"You have to go out and want to win the game from the start," added Cargo.
"We know if we win, we go through. And it will depend on the result before us, as to whether a draw is enough to finish second or if a draw is enough for England to get through.
"But at the minute we are just concentrating on going out and winning the game and that is the most important thing and hopefully that puts us where we want to be, finishing second in the group.
"There is no point worrying about any other game, we have to get a result tomorrow. Olympic qualification and Tokyo is a long time in the future.
"This is a major tournament and the first time we have played in it in 28 years, so we want to keep going and achieve our goal, which is to make it through to the quarter-finals and that is still our main focus."
Follow live updates from the Ireland v England Hockey World Cup encounter on RTE.ie and the News Now App from 1:15pm on Friday.