It's difficult to describe the searing, scorching heat of London yesterday at the Lee Valley arena, which was part of the London 2012 Olympic complex.
Even for someone like me who's been around a bit and thought driving along the Sahara desert could never be equalled. Yesterday was truthfully the first time I struggled in the heat while on assignment.
The press centre, in the former Olympic badminton centre, has as its only ventilation an open emergency exit. It is stifling in London this summer as the sun beats down on Britain's capital and the Women's Hockey World Cup is played out.
Into this cauldron entered the alleged "surprise" package of the World Cup.
A surprise to everyone except those involved in the Irish squad. They have been plotting this assault on world hockey for over a decade since their challenge at that tournament faltered in Australia. In fact, a member of that 2002 team is now the Ireland assistant coach.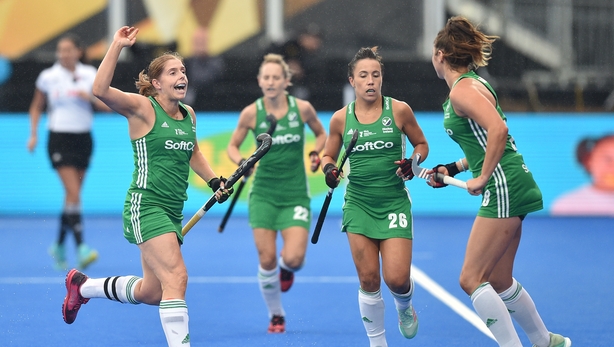 Yes they are below some lauded teams in global ranking, and yes they are not in the main full time professionals at an official level. But Ireland's hockey team are full time professional in body, spirit and mind. Those not playing overseas use all of their holiday time from work on hockey and take unpaid leave when that's gone.
They have professional coaches and funding that's better than years gone by but not yet enough. They are carved out of the girls, youths and women's teams that train across Ireland every weekend and play for their clubs before opportunity knocks for their country. Hockey is an incredible unsung hero of Irish community sport.
In London as I travelled on the stifling shuttle bus to the venue, officials from the England team, that later fell to the sword of Netherlands, chatted beside me; about how they had no doubt Ireland would beat India.
What a moment! Ireland have done it, they're into the Hockey World Cup semi-finals!!!! #HWC2018 #GreenMachine #RTEsport pic.twitter.com/7K6cc8TyBC

— RTÉ Sport (@RTEsport) August 2, 2018
The Irish defence is impenetrable they muttered to each other. In the press centre, hockey journalists who suddenly found themselves in demand, said Ireland were fitter and more of a unit than their Indian opponents - and would go through.
When they entered the roasting hot arena at 6pm to do battle with India and 'Ireland's Call' roared from their shoulders to each other's shoulder; you knew something special was about to happen.
When full time resulted in a draw, those of us there mopping our brows as against the television world back home who may have been tense and nervous – knew Ireland would not be beaten, it was just a sixth sense, the stars had aligned, the training had paid off.
Young girls who started training in primary school now stood as fearless women, sportspeople and world class hockey players to confirm their place on the global stage. This was no surprise.
The heat of the press room lifted and hardened journalists had to catch their breath after the game, as down the hall from the players dressing rooms an echo became a roar as the sound of the Irish team could be heard spontaneously and continuously in triumphant chorus sang "Ireland's Call" for each other and to each other. Ireland's call indeed.