Ireland 1-1 Austria
Ireland win bonus point shoot-out 4-2
Ireland earned a winning draw against Austria to ensure they will top Pool A of the Hockey World League Round 2 after normal time had ended 1-1 against Austria.
Austria proved a much sterner test than Saturday's encounter against Ukraine, employing a compact, man-to-man defence that left Ireland with plenty of ball but rarely in dangerous areas.
Nonetheless, Matthew Nelson's third-minute goal had Ireland ahead for a long spell before they succumbed to a penalty-corner goal from Dominic Uher inside the last two minutes.
Nelson's goal was a powerful effort, grabbing the ball and shooting home from Chris Cargo's cross from the right wing. After that, there were tidy incisions from Jonny McKee and Nelson along with one corner which was charged down.
The second quarter, though, saw the tempo slow dramatically with chances at a premium. Austria won one corner which Bernhard Schmidt saw guided away by the post-defender. Matthew Bell's cross-field overhead to Shane O'Donoghue was the pick of Ireland's attacks but his reverse went off target.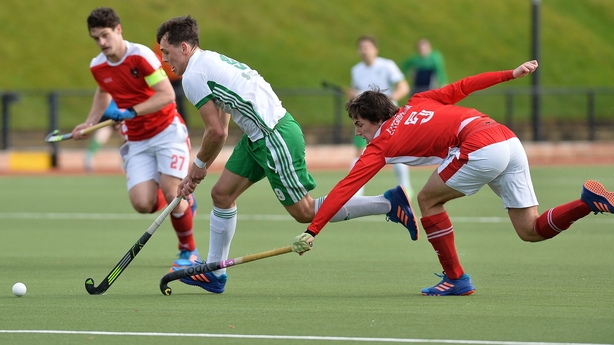 Precious little goal-mouth incident came in the third quarter, leaving the narrow margin between the sides to continue deep into the game. Jonny Bell's excellent overlap almost yielded a second goal but his cross was stood on by McKee at close quarters.
It left Ireland susceptible to one last attack, especially when Lee Cole was sin-binned and a ball down the line was mis-trapped, allowing Schmidt to break in and win a corner. He dragged and Uher was credited with a touch to send the ball in down the middle of the goal.
It meant a draw which, in this competition, leads to a shoot-out for an extra bonus point. Ireland scored four from four with Conor Harte, Eugene Magee, Jonny McKee and Shane O'Donoghue all scoring.
World goalkeeper of the year David Harte saved two Austrian attempts to guarantee Ireland lead the group overnight.
Reflecting on the tie, Craig Fulton was reasonably happy despite failing to create many major chances.
"I don't think Austria tried to play too much, sitting deep to play off our mistakes. That's one way of playing and they did it well. 
"We had a lot of possession; maybe we didn't play it smart enough at times but it's only this group's second game together,Fulton added. "We do need to improve on how we kept the ball with two minutes to go. We made one mistake, a deflected corner and its 1-1.
"We do need to keep the foot on the gas in the final third; we didn't win any corners in the second half which is indicative of them being deep and well organised and us needing to get better but I am happy with how we played."
Ireland face Italy on Tuesday in their third group game before an all-important quarter-final on Thursday. 
Fulton expects a very different challenge from Italy: "They will be very passionate and dogged in defence. They will also want to come out and play which will be different; they are quite skillful."
Ireland: D Harte, J Bell, M Bell, R Gormley, C Cargo, M Nelson, E Magee, N Glassey, S O'Donoghue, J McKee, C Harte
Subs: B Walker, S Murray, P Gleghorne, J Duncan, L Cole, J Wright, J Carr