Ireland 4-1 Malaysia
A convincing performance has seen Ireland claim fifth place in the World Hockey League with a clear victory over Malaysia in the play-offs in Antwerp.
The win leaves Craig Fulton's Ireland with a superb chance of qualifying for Rio 2016 should results in the continental championships mean that extra Olympic places are allocated to the World League.
Ireland dominated the opening quarter both in terms of possession and chances as they penned the Malaysians back into their own half. That pressure was rewarded with two strikes in the opening 15 as Kyle Good and Peter Carruth both got their names on the scoresheet, while frustrations got the better of Malaysia, who had Izad Jamaluddin yellow carded.
Malaysia pressed for their first score in the second quarter, with Muhammad Shamsul coming ever so close to pushing home from close range, only for goalkeeper David Harte to get down low and deflect the ball wide with a ricochet off his body.
The Asian side had another fine chance when Faizal Saari jinked past the Irish defence to leave the goal gaping, only for the No 10 to shoot wide right.
Ireland held firm for the remainder of the quarter to hold onto their two-nil lead at the long break.
Saari had a further chance to haul Malaysia back into the game in the third quarter, but again missed the target when expected to goal.
And as the Malaysians continued to spurn chances, Ireland capitalised, with Michael Darling breaking down the left wing and delivering a chop-reverse cross for Alan Sothern to finish from close range to leave Ireland three goals to the good with five minutes to play in the third quarter, which they closed out without a further score.
The Asian side needed something special in the final quarter to pull themselves back into the game, and they began in the worst possible way, losing Nabil Noor to a yellow card after 48 minutes. But push they did, forcing Harte into a super parry from a penalty corner from Saari. The Malaysians pressed again with three further penalty corners but the Irish rearguard held firm as they repelled three different set-pieces.
All that pressure merited a reward and eventually it came as Faiz Jali got on the end of yet another penalty corner - Malaysia's sixth of the game - to reduce the deficit to two goals.
From their seventh penalty corner Harte was again forced into a save as he parried away to his left from Saari once more.
Having been dominated for almost the entirety of the final quarter, Ireland countered from deep right, with Shane O'Donoghue shooting far left, and Darling getting a deft touch to direct the ball home to seal the victory with a superb finish, to ensure fifth place for Ireland.
Speaking after the victory, 'keeper Harte said: "The way that we had to defend again in serious big games like this showed fantastic effort from all 18. 
"It's been a rollercoaster, we've had incredible highs and lows, but to finish on a high like this is amazing. 
"We came here to do a job and finish as high as we possibly could. Today we had a chance to play against a team that was higher ranked and take a scalp and that's what we did. We're absolutely over the moon."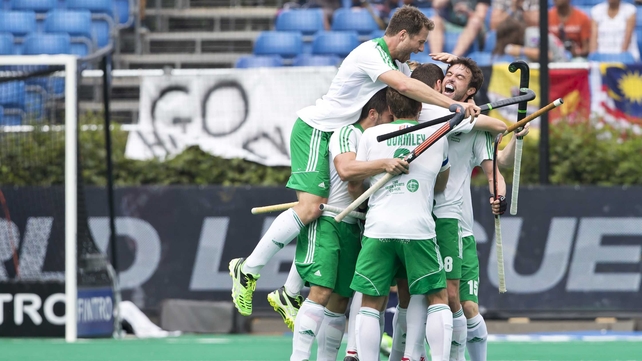 The win puts Ireland on the cusp of Olympic qualification and three things would have to occur to prevent them reaching the Games: Brazil must finish sixth or higher at the Pan American Games to claim their host spot, New Zealand must win the Oceania Cup and Egypt must win the Hockey African Cup of Nations.
Ireland: Harte, Jackson, Bell, Gormley, Watt, Cargo, Sothern, Dowds, O'Donoghue, Darling, Gleghorne.

Substitutes: Magee, Caruth, Shimmins, Carlisle, Good, Harte, Fitzgerald.