Tom McKibbin is still coming to terms with securing his first victory on the DP World Tour and the Holywood golfer admitted that the maiden win had yet to sink in.
McKibbin went into the final round of the Porsche European Open in Hamburg in a share of the lead and he proceded to shoot a steady three-under 70 to win the event by two shots.
McKibbin moved into the overall lead thanks to three birdies on the front nine, however, he opened the door for the chasing pack on the back nine as he dropped two shots.
The Belfast man birdied 15 to ensure that he went down 18 on eight under par, however, he maintained his aggressive approach and reaped the rewards with an incredible approach to the final pin.
"That shot on 18 was probably one of the best shots I've ever hit," said McKibbin, speaking to RTE Sport's Greg Allen following his victory.
"I feel pretty amazing, it hasn't really sunk in yet, I'm sure tomorrow will be a bit different."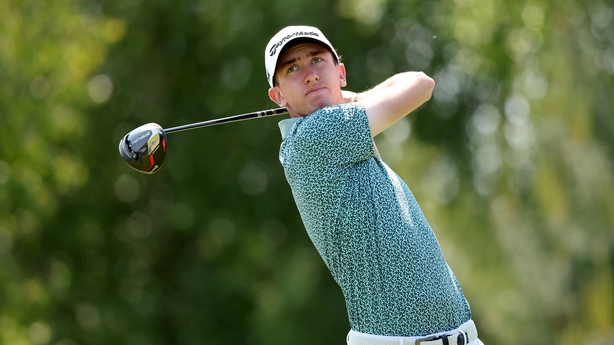 McKibbin admitted that he had been battling a cold and a sore throat this week and in a way, it helped to keep his mind off the magnitude of the occasion heading into the final round at the German event.
"I've been pretty sick all week with a cold and my throat, you can probably hear it in my voice and I've been more worried about getting that fixed than the golf so that probably helped a little bit.
"But I felt pretty good all day, I felt pretty calm. I knew it was a hard course, so I didn't need to force anything and that helped as well."
Playing in his first full season on the DP World Tour, McKibbin showed excellent early form with three top-25 finishes, and while there has been a recent dip in form, missing three of his previous four cuts, he felt that he would hit form on a track that suited his game.
"I've been playing well all year up to the last couple of months, but I have been working hard and I knew once I got a golf course that really suited me… it was pretty tough and it helped me a lot and this week has proved that."
WHAT A SHOT! 🤯

From over 200 yards, @tommckibbin8 hits it to 7ft at the last! The closest approach into the final hole all day.#PEO23 pic.twitter.com/IUSwauWAUT

— DP World Tour (@DPWorldTour) June 4, 2023
Following in the footsteps of club mate Rory McIlroy – both are members of Holywood Golf Club – McKibbin was also early to the professional game, leaving the amateur ranks as an 18-year-old.
And now just two seasons in, McKibbin has added a DP World Tour title to the impressive year on the second-tier Challenge Tour, where he secured his tour card with a top ten finish in the order of merit.
"I guess it is what I planned," said McKibbin. "But everything has happened so quickly and the win out here, so it's pretty special. I was just going week by week and seeing what happened but this week has definitely turned that around."
Along with the hefty paycheque of €300,000 for the victory in Hamburg, perhaps more valuable is the two-year exemption on tour that comes with the win, and McKibbin said that it would allow him to take a less hectic approach to his schedule, while allowing him to play in some of the biggest events in world golf.
"I'm not too sure yet. I'll sit down and think about it over the next couple of days," said McKibbin, when asked about the significance of the victory.
"It probably means that I get to play the big events now, and maybe take a few weeks off when I would have had to play before so I'll probably nit-pick the schedule."
And as for McIlroy, the reigning world number three was also in contention to win this weekend with a real chance to make it a Holywood double at The Memorial Tournament on the PGA Tour in Ohio.
"It would be pretty special if Rory could go and win tonight, that would be pretty awesome," said McKibbin.