Three-time Major champion Pádraig Harrington skipped around the Old Course in three-under-par 69 on day three of the Alfred Dunhill Links Championship before reminding the rest of the field that "there's a lot more to links golf than just swinging the club".
Harrington dropped just the one shot with a bogey on the short 11th and picked off four birdies to leave him on seven-under-par overall, comfortably inside the top-15 and eight shots off the lead of England's Richard Mansell.
"You have to manage your game and expectations. It does help to get ahead of the game. I started ok, I made a birdie early enough," the Dubliner told Sky Sports after his round.
"It helps to have a good start and maybe have some momentum in the group - both myself and my partner shot one-under yesterday so that does help.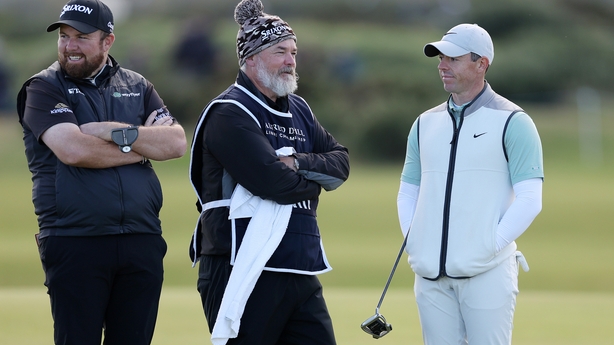 "Overall, it's about managing expectations and managing your game. Sometimes a good shot, a smart shot is, dare I say, take extra club and if you hit it very well, ok you're going to be past the pin, but the likelihood in the bad weather of that actually happening...
"You just have to play very sensible golf. There's no doubt you're going to have to chip and putt well, which is something I'm good at. You need a lot of resilience and probably just the good mental fortitude of managing your way round the golf course.
Harrington first won this championship 20 years ago almost to the day and managed to pick up the trophy again four years later in 2006. When it comes to the unique questions presented by links golf, the two-time Open Champion is more qualified than most to answer.
"We're seeing it a lot more. Professional golf goes to really nice conditions, everything perfect. There's a big pool of players playing and if any one of them plays well, they're 'great'," Harrington said.
"Whereas you go to links golf and it just takes more than swinging the golf club to get it around a links golf course.
---
Alfred Dunhill Links Leaderboard
---
"It's more than just ball striking. And sometimes, actually hitting it too well is a problem! I saw this morning on TV, Rory spun it in the water on the first. You don't want to have 'that' strike at times.
"You've got to be able to take your spin off, you've got to play sensible shots. I had 109 yards to the first today, I hit nine-iron just so it wouldn't spin back.
"You've got to be clever at times with not hitting it too well - is that a terrible thing to say? And other times you've got to hit some great shots! The first day, I had 230 into the 18th green at Carnoustie. I'm hitting four-iron and there's trouble everywhere, you've just got to hit a great golf shot.
"Sometimes links golf asks you to really hit a great shot and sometimes it just says 'be sensible here, play the odds... be clever."