Olivia Costello will be packing a lot more than her golf clubs when she sets off on the winding road from Roscommon to Dromoland Castle to play in the upcoming KPMG Women's Irish Open.
The prestigious Ladies European Tour returns to these shores after a 10-year absence and while Costello's father, Michael, will be charged with prepping her golf bag, the 14-year-old second year student is intent on bringing her school books for the duration.
Roscommon native Costello is one of Ireland's brightest prospects in what appears to be a golden age for women's golf in the country, and while Leona Maguire will be the main attraction at the Co Clare-hosted event, there is already a connection between Ireland's present best and future hopeful.
Costello was over at the recent Women's Open in Scotland, following Maguire around the iconic Muirfield links when she got word of her invitation to the Dromoland event; the two golfers also share the same coach, Shane O'Grady.
"My dad bought tickets for me and a few of my friends and we went down (to the Women's Open), and just when we were heading over to Carnoustie to play the British Under-18 Amateur, my dad got a call about the invite," said Costello, speaking to RTÉ Sport.
"Leona was the one person that we were going down to follow around, and after we watched a few holes, we also got introduced to some of the really big names, but Leona was the main player I wanted to see.
"I also met her over at the British Amateurs and we had a bit of a chat about the home internationals and she was asking how I got on."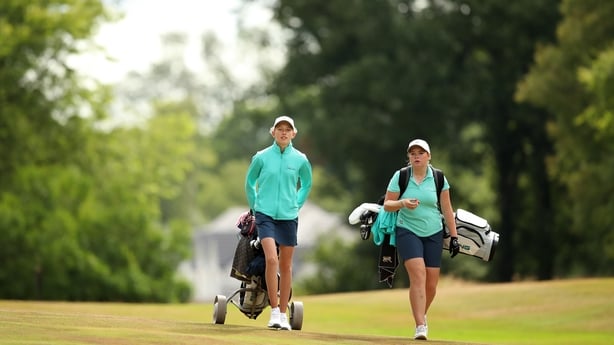 O'Grady is one of Ireland's leading golf coaches, based out of Black Bush Golf Club in County Meath, and helped Maguire become the best in the world at amateur level, while also coaching DP World Tour player Gavin Moynihan.
Costello has been working with O'Grady since the age of eight and the two families remain friendly, as Olivia is friends with Shane's daughters.
"His two daughters are the same age as me, so we're all really close," said Costello.
Looking ahead to tournament week, Costello said she had no hesitation accepting the invitation and is looking forward to teeing it up alongside Maguire and learning from the other professionals taking part in the Tour event.
"I had no hesitation," said Costello. "Getting the invite was very exciting.
"I couldn't believe it at the start, from going out watching Leona to be able to hopefully tee it up with her and all the other great players."
Costello has yet to play the tournament track at Dromoland and she is travelling down at the weekend to get settled in ahead of the busy week.
A few of Irish Girls team came to the #AIGWomensopen to meet their hero @leona_maguire , their all my heroes ❤️ pic.twitter.com/suNSaxwf2A

— Áine Binchy (@ainebinchy) August 5, 2022
However, hailing from the inland parkland course of Roscommon Golf Club, Costello believes she will feel at home away from home in county Clare, albeit with a longer yardage to negotiate.
The teenager is currently carrying driver over 230 yards, so despite the longer track, she does not think she will have to make too much of an adjustment to her natural game.
"We're going down this weekend to play the course and walk the course," said Costello. "Then we'll have two practice rounds ahead of the tournament," she said, adding that she is likely to practice alongside international team-mate and fellow teenager Katie Poots, who also received a sponsor's invite.
"I'll feel at home on an inland parkland, and while it would be a lot longer than Roscommon, which is short enough compared to Dromoland, I don't think I'll be doing much adjustments.
"We'll have a gameplan, and I'm happy with where my game is. I've done a lot of practice and I played a couple of All-Irelands over the last few weeks, I'm happy with how I'm playing and how my game is at the moment.
"Katie would probably be the closest girl that I know who is going down, so I'll probably play a few practice rounds with her."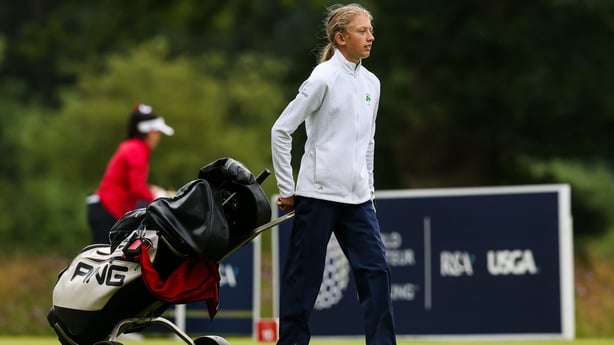 A student of Convert of Mercy in Roscommon Town, Costello will be taking a slightly earlier mid-term break than the rest of her classmates, however, she stressed that she keeps on top of her school work so she doesn't have to think about it while out concentrating on her golf
"I'll probably bring my school books and get as much done as I can. I have missed a few days but I always catch up," said Costello.
"I don't want to be thinking about schoolwork when I'm golfing, so when I've done all my schoolwork, I can go out and do what has to be done on the course without worrying about it."
So with the gameplan in place, there will be no pressure on the 14-year-old's shoulders going into the prestigious event, however, Costello was adamant that she would not have accepted the invite if she didn't believe that she could compete at the level, alongside seasoned professionals, including Scottish great and former Solheim Cup captain Catriona Matthew.
Watched the Rachael Blackmore doc last night I'm so lucky to be growing up in Ireland at a time we have so many brilliant sports people ye inspire me to want to be the best @leona_maguire @KatieTaylor @rachaelblackmor @Kelly64kg @ciaramageean #inspired #Motivated #wantit pic.twitter.com/cFl9acWPLQ

— Olivia Costello (@Oliviagolf1) December 30, 2021
"First of all, it's going to be a great experience, watching how all the professionals prepare and all that stuff, but it's always been a thing that I wouldn't play any tournament unless I wanted to win it.
"Obviously, there's some stuff that I have to do, like make the cut, but I would never play a tournament if I didn't think I could win it. But it will be a great experience," she said.
As for dad, Michael, who "got down to nine or ten" as a member at Roscommon, while introducing his daughter to the game, and who will be charged with assuming the role of caddie for the trip to the Clare castle course.
"To be honest, I let Olivia play her own game," said the proud father. "I suppose I'll have to do a bit of homework to help with the yardage and stuff like that.
"But I let her do her own thing, and if she's making mistakes, she's learning."
Watch the Women's Irish Open live on RTÉ News this Thursday and Friday, with live coverage on RTÉ One on Saturday and Sunday.