It was three years ago that David Carey shot a round of 57 on the third level Alps Tour - the lowest score ever in a world ranking event.
And now 'Mr 57' has qualified for the 150th Open at St Andrews.
In qualifying the Castleknock native finished four shots ahead of the field at Fairmont St Andrews in testing conditions. Carey has been practicing with major winners Keegan Bradley and Bryson DeChambeau at the Old Course, seeking out any advice he can ahead of his debut at a major.
The player, who nearly drives the ball as far as DeChambeau, is currently ranked 912th in the world. However, he is in confident mood and has a high expectation about what he can achieve at the home of golf.
He told RTÉ Sport: "If you look at the scores that could win, it's 15 (under par), 16 to 19. I know I can achieve those scores, whether I can play the type of golf to achieve those scores, I don't know yet. Hopefully, if it all clicks then I have as good a chance as anyone. I hope to have the Claret Jug in my hands on Sunday. I'm sure a lot of people would say that but how many people believe that they can.
"I know I can do it. If I don't do it this year it will be at some point in the future."
No harm in aiming high then. Looking back on that round of 57, Carey commented: "It's pretty cool to have that record. I missed two putts on two greens that day so it could have been even lower."
Carey's career has been somewhat unconventional in that he abandoned the amateur set-up at the age of 18 to turn pro. He is still on the Alps Tour, where he won just once, the Cervino Open three years ago when he carded that famous 57. Making the Open field is another step, and it could be a huge step, for the 26-year-old.
"It's nice to achieve something you haven't done before. If you keep working hard and see no reaward then that is disheartening. When you get a boost and reach a tournament like this you can keep going.
"I think the only thing I can really, fairly expect for myself this week is to go out there and do my best and try to commit to every shot.
"Beyond that, I don't know. If I commit to every shot, I'll go have a good week because that's one of the hardest things in golf, to pick a line and don't think, 'don't miss it here', 'don't miss it there'.
"That bit I can control."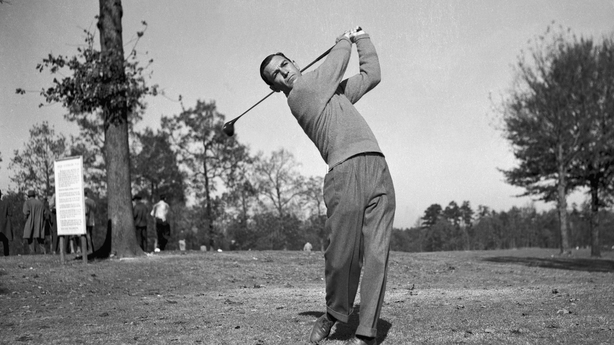 Carey's golfing hero is Ben Hogan - the nine-time major winner, whose career was interrupted by a serious car accident.
"Hogan was in his 30s when he won his first major," Carey explained, a stat that gives the Dubliner hope that his best days are yet to come.
"Mr Hogan's life story shows that if you put enough work in and you keep trying and keep working, it can be achieved.
"At lowest point of my professional career I listened to an audio book by Curt Sampson, the man who wrote Hogan's biography. It's a really, really good book. It resonated with me the amount of times that he failed and didn't make it.
"He lost all his money and had to go back to teaching. He tried and failed, and tried again, and failed. Through grit and determination, and with not a whole lot of help, he made it on his own.
"That resonated with me. By chance I went home and sitting on the book shelf was Ben Hogan's 'Five Lessons', which my Dad had bought years before. I had forgotten it was there."
Hogan won his only Open at Carnoustie in 1953, aged 41. Carey is gunning to beat him by 15 years, at the 150th Open.
Follow our live blog for each of the four rounds of the 150th Open Championship on the RTÉ News app and on rte.ie/sport, with regular updates across Radio 1 and 2fm.