Graeme McDowell came to the 2010 JP McManus Pro-Am as golf's latest major winner, 12 years on he landed this week to Adare Manor as one of the controversial faces of the new Saudi-backed LIV golf series.
McDowell admitted that he wasn't sure what reaction he would get from the fans but, speaking to RTÉ Sport's Greg Allen after his opening round of 71, he said he still felt as though he had support out on the course.
"I'm here maybe not feeling as celebratory and welcome as I was maybe 12 years ago, last time I was here I just won the US Open," said the 42-year-old.
"It was a real celebration for me but this time I'm obviously here under slightly more negative connotations. I'm disappointed that that's kind of where we are in the world of golf.
"Irish golf fans, they love golf and they're proud of their players. I felt like they were still proud of me out there this morning."
The 2010 US Open winner says this week is a celebration of golf and a chance to get away from the negativity surrounding the sport.
"There's no focus on LIV, there's no focus on the negativity that's surrounding the game of golf," he continued.
"This is a celebration of golf these two days, it's a celebration of a family that are extremely special here in Limerick, and obviously, the island of Ireland."
The former world number four says the media scrutiny and social media abuse hasn't been easy on him or his family.
"You know when I'm plastered on the front page of the Belfast Telegraph, do you think that makes my family happy? You know, because of some guy from Amnesty International.
"I didn't respond to his comments, and how am I supposed to respond to Amnesty International? I'm not some peace ambassador, I'm just a pro golfer who tries his best to do his job."
McDowell says he has acknowledged some of the human rights issues in Saudi Arabia, and he added that the DP World Tour "brought these guys to the table".
"I won their tournament in 2020. When that million dollars landed in my bank account, no one told me on my Twitter account that week to go die, this is such a competitive threat.
"I've never hyper analysed the morals and the ethics behind the dollar bills that I that I've made in my career."
McDowell says he has made peace with the proposed sanctions from the PGA Tour and the DP World Tour that will be coming his way, but he sees there being room for the LIV Golf Series to co-exist in the game.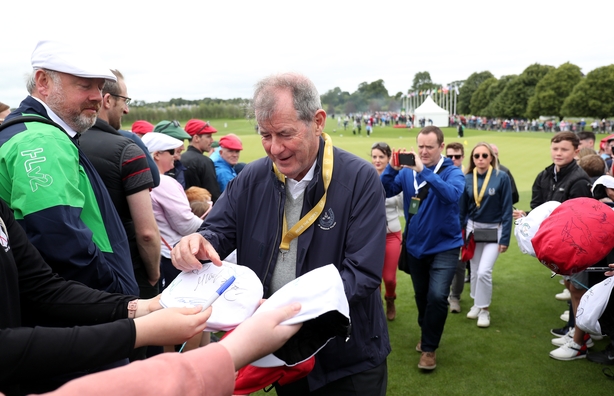 McDowell added that organiser JP McManus has brought some of the game's biggest names together and that he's hopeful that the tournament can help to repair some of the damaged relationships.
"JP McManus has brought five tours together and some of the most important people in golf.
"It's maybe the last time these people are together for a little while and let's hope they can all sit down over a pint of Guinness tonight, and maybe try and sort stuff out a little".