DP World Tour chief Keith Pelley has revealed the steps LIV Golf Investments made to invest in or take hold of the European Tour in an exclusive interview with RTÉ Sport, where he also talks about the new partnership with PGA colleagues.
The European tour announced their new 13-year agreement yesterday, building on an initial relationship.
The Genesis Scottish Open will be co-sanctioned between the bodies, while there will be mutual access to events in a number of arrangements to benefit the established tours ahead of the threat LIV brings.
Pelley also confirmed the status of the Irish Open as a DP World Tour event will remain unchanged for the foreseeable future.
Speaking on LIV, which holds its second event this week in Portland, he said: "What happened in 2021. We viewed an unsolicited presentation in Malta from P54, which is the marketing agent of Golf Saudi.
"In September I took that presentation out of courtesy to the board, and it was never an official written offer. It was a presentation where the financials were less appealing than the financials we were offered by Raine Capital in the PGL some nine months ago.
"From then on we focused on our partners and the PGA and had no dialogue with LIV," he told Greg Allen.
Recruitment of some of the world's best golfers by the LIV Series has put pressure on the established tours to respond, both by punishing the 'rebels' and making their own competitions a more attractive prospect for those who have remained loyal.
"It's been frustrating not being able to speak (about our PGA agreement). I couldn't speak freely and have clarity on where we were going and what our future was until it was completed.
"That future now is to change our strategic alliance to a joint operational partnership with the PGA Tour. It has been a very interesting and challenging time. There is no question this has been accelerated by what has happened over the last couple of months with LIV Investments.
"For our members, it gives them security with guaranteed prize funds for the next five years. It gives us a chance to transform our tour.
"The additional investment will allow us to do so much that will let us grow our 'nation's opens'. That is critical for us, just like here at the Horizon Irish Open, because we can make it even bigger, better and stronger. I can't tell you how optimistic I am about the new partnership."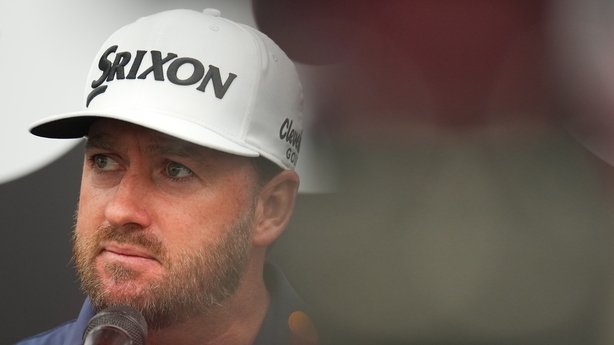 The DP Tour has struggled to match the advancements of their US equivalent, which boasts huge prize funds for regular tour events, but continues to be a major part of world golf.
Pelley feels this agreement shows the value the PGA Tour can see in Europe, but rejected suggestions the DP World Tour was a 'feeder tour' for the American competition.
"The PGA Tour see the unbelievable value that the DP World Tour brings. Our knowledge of the international markets, our relationships, our national opens, this is a full integration without consolidation or merger. At the same time we are keeping our identity and independence.
"There is 10 players not already exempt in next year's rankings and they get a PGA Tour card, a very good one which sees them play 27-29 times potentially for $450 million, which is significant. However, we are the furthest thing from a feeder tour. A feeder tour is when you only want to be elevated to the next level.
"LIV Investments are spending a tremendous amount, enormous sums, on just a few players. But it's eight events at $25m and next year the PGA Tour will have 11 events at an average of $20m. Those type of prize funds aren't sustainable unless you're playing in America, where the commerciality and the size of the market is much different. We did believe we had to make a decision.
"I don't think we were ever threatened in terms of existence, but in order for us to grow and build, and secure our long-term tour, we had to do something significant. This is something significant. Now you have guaranteed prize funds, a pathway and a new global series."
Shane Lowry spoke to RTÉ Sport's Dave Kelly ahead of the first round of the Irish Open and revealed that it's the one tournament than he never wants to miss. #RTESport pic.twitter.com/8iCRQPe8eN

— RTEgolf (@RTEgolf) June 29, 2022
In addressing Irish Open which has grown through the commitment of Irish golfers and sponsorship, Pelley sees it progressing but without the PGA taking a majority stake it in.
"It would never be unilateral a PGA tour event," Pelley stated.
"It would have to be co-sanctioned.
"Those are not the discussions we are having right now. We're talking about a new global series which will have an event in Europe.
"The Horizon Irish Open is the national event and something we will continue to build. We think Horizon and the way the PGA Tour assist us in bringing them to the table (is the way to hold it).
"Could it happen down the road? It's not in the plans to co-sanction a number of events. Anything is possible but not it's in the plan right now (outside of Scotland)."
Watch the Horizon Irish Open live on RTÉ2 and RTÉ Player on Thursday and Friday from 1pm-6pm. Day 3 and 4 coverage on Saturday and Sunday from 1.10pm on RTÉ One and RTÉ Player.