A week in Ohio could be just what Rory McIlroy needs right now.
The Memorial Tournament near Columbus is one that enjoys elevated status on the PGA Tour and carries a $12m purse while possessing a major-worthy field.
But apart from those obvious attractions, there's also possibly a conversation to be had with an occasional mentor, Jack Nicklaus, the tournament host who knows what it's like to win and lose and also lift a major title after a long hiatus – in his case six years.
That's familiar territory for McIlroy, who walked out of the clubhouse at Southern Hills last Sunday week palpably painfully disappointed after arguably the best opportunity he's had to win a major in over seven years went awry.
Untypically, as is well documented, he opted not to speak to media afterwards.
He then retreated to the clubhouse to gather his belongings and emerged within 20 minutes with gaze fixed downwards towards the steps he was taking towards the courtesy vehicle that would whisk him off the property.
Raising his head to make eye contact would mean engagement with a few lingering media veterans with whom he would normally be quite forthcoming.
This, though, was different to previous disappointments. The round he had just signed off on was a 68. Only three players on the final day of the USPGA Championship had shot lower, and even then by just by a single stroke. So there was probably something deeper, more lingering and complex to process after a 15th top-ten finish since he last won a major championship.
There had been the now familiar Sunday flourish of birdies, but it wasn't enough as there were none in the last 13 holes. It was not, by any means, a meaningless high finish and he really did move to the fringes of contention, but he had been too far off the pace to have felt the real heat of Sunday battle.
He likely knew the questions he would be asked, but it's a moot point that he had any answers to them as he processed the events since Thursday's first round 65, which had been his fastest start in a major in over a decade.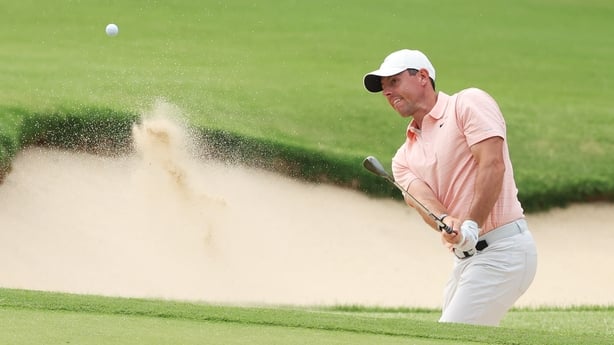 The decision not to speak at the end was likely a matter of self-preservation. He had also sidestepped interviews after a round of 74 the previous day, but his Sunday refusal pointed more likely towards a deeper level of self-questioning.
In previous such circumstances through the years, his honesty and candour has been impressive but not necessarily helpful to his own cause.
Off-the-cuff stream of consciousness comments immediately after his first round 79 at the 2013 Open at Muirfield about being 'brain dead' were leapt upon by a wide spectrum of media.
Then there was the tearful honesty in his post-Ryder Cup television interview last September in Wisconsin, which showed how close his feelings bubble to the surface and are liable to spill over.
At Southern Hills he was probably asking himself the same questions that journalists would have asked and he was still waiting for a lightbulb moment of clarity, perspective and poise to fashion any sort of answer he felt made sense of it all.
He knew that what had unfolded over the previous four days had been far from a fleeting opportunity to end his long majors drought. It was probably his best chance since claiming the Wanamaker Trophy eight years earlier.
Early in the week, McIlroy had been buoyant about his runner-up finish in the Masters a month or so earlier, and lightly hinted that it might be a catalyst for change in his fortunes in the majors.
But even then, he was realistic enough to point out that his charge up the Masters leaderboard on the final day came to something of a halt after he made an eagle three on the 13th.
"I felt I was chasing for 13 holes and in contention for five", he said of his Augusta Sunday 64.
Still, even though he didn't press on over the closing holes in the Masters, it had been a good experience and a rare occasion in 14 appearances that he had left Augusta with something of a bounce in his step.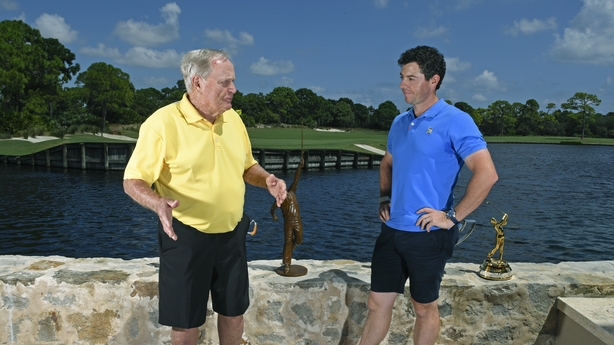 But where has the once trademark jaunty stride of McIlroy in his pomp otherwise largely disappeared to? Are there so many miles of major championship toil and reversal of fortune on the clock that it can't be turned back?
Or are the events at Southern Hills going to prove to be a watershed moment of release in his mind about major championships and the process of building a season around peaking for them?
He at least proved in Oklahoma that he can control the pre-event expectation levels and shoot a first round leading score in a major. That hadn't happened in almost eight years.
He also showed both in the USPGA and in Masters that 'freewheeling Rory' is still among the most exciting box-office spectacles in golf, and that element is still very much part of his DNA.
He hadn't made four birdies in a row in a major in eight years. He did it twice in a week at Southern Hills. Six weeks ago he shot his lowest final round in a major and followed it in Tulsa with his lowest opening round in over a decade.
As he prepares to play in the Memorial Tournament this week, there's obviously a question as to whether clarity has evolved from the fog of whatever self-analysis has been going on but on a positive upward curve, there's been more octane in McIlroy's major championship engine in 2022 than we've seen in years.
Whatever happens this week in Dublin, Ohio, the US Open at Brookline in Boston in a fortnight offers another chance and there will be many more.
Just ask the host this week. Nicklaus won a record 18 majors – the last of them at 46 – but was runner-up in 19 and third in 9 others.
Nicklaus and McIlroy know each other well. They first met by accident in the car park of a Florida Shopping Mall over 13 years ago when 19-year-old Rory was chuffed to be recognised by the Golden Bear, who was an admirer of the young man's burgeoning talent.
Famously, they had a conversation after the Memorial Tournament in 2014 when McIlroy followed a first round 63 with a second round 78. Nicklaus wanted to know how that happened on the course that he built and had knowledge of every fold in the land. The details of their conversation remain between them but the effect may have been significant.
McIlroy, who was in the process at the time of putting behind him the slump of 2013, then went on quite a run of two major championship victories and a World Golf Championship in the following ten weeks.
It might be a good time to have another chat.