Rory McIlroy believes his scintillating finish at the Masters, coupled with his impressive record at the US PGA Championship, can help end an eight-year wait for a major.
McIlroy had his first look at Southern Hills course in Oklahoma on Monday and is looking to claim a third win at the tournament, following his victories at Kiawah Island (2012) and Valhalla two years later.
The 33-year-old arrives in Tulsa in good form, having equalled the lowest final-round score in Masters history to finish runner-up to world number one Scottie Scheffler at Augusta National in April. He followed that with a top-five place at Wells Fargo in his only tournament since.
McIlroy told RTÉ Sport's Greg Allen just how important that finish at the Masters was.
"At the end of the day, it was just one round of golf, but it was a big round in terms of confidence-building and knowing that I can go out and shoot a 64 around Augusta in pretty tough conditions," he said.
"Even the weekend in Augusta, I beat the field by six shots over the weekend. To play the weekend in nine-under.
"People will say I had to because of the hole I dug myself in the first two days.
"Coming off the back of a really good finish in the last major, a similar mindset, a similar philosophy coming in here, being disciplined, being conservative, hitting a ton of greens, trying not to get myself out of position too much, all of that, around a golf course like this.
"It plays pretty similar to Augusta in that it's a second shot golf course and you have to be really good around the greens."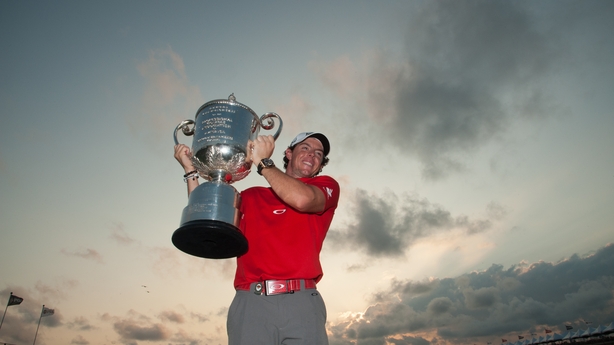 It is a tournament that the four-time major winner has thrived on. By the age of 21 he had achieved two top-three finishes. Since then, two victories have been added.
Does it offer him the best chance of winning a major?
"I've always felt the PGA is less of a departure from the golf we play week in, week out, on the PGA tour, it's set up sort of the same.
"I've always had a comfort level at this event that maybe haven't had at the other three. I think that's why I have had some success here."