Rory McIlroy insisted he was "encouraged" by his first round at the Masters despite shooting a one-over-par 73 that left him six shots behind leader Sungjae Im.
McIlroy is pursuing a first major title since 2014 and the 'Grand Slam' of golf's major crowns but is joint 43rd after the first round at Augusta.
The Down native posted two birdies, three-putting on 14 for a bogey and will need to avoid any slip-ups on Friday to be sure of making the cut [top 50 and ties].
"I played much better than the 73 shows but I'm happy with how I played," McIlroy told RTÉ Sport's Greg Allen.
"If I can bring that sort of form into tomorrow [Friday], just hole a few putts and get a bit more out of the round, I'll be pretty happy.
"Start well and all of a sudden you'll be on the board. So I'm really encouraged with how I played.
"Drove the ball well, if I can continue to do that over the next three days and just hole a few putts, be a little more efficient with my scoring, I feel I'll be right there."
---
---
Reflecting on missed opportunities, he added: "I had a putt at 14 to go two under for the round with a par five to play but I three-putted that and halted any momentum I had.
"Didn't birdie 15 and hit it in that right bunker on 16 and didn't get it up and down.
"I feel like it was the worst I could have shot today. I feel like I played really, really well. I pulled a couple of putts, so I want to go on the putting green now and work on that a bit.
"The course is in incredible shape for the amount of rain we have had so I am looking forward to dry conditions over the next three days."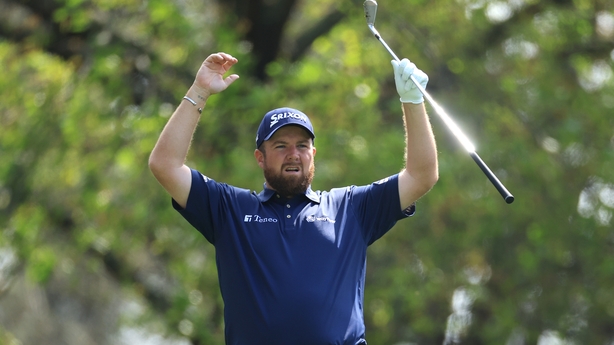 Shane Lowry was also on one over after a much more rollercoaster round - he eagled the 14th but then slipped to a double bogey on 15 after his ball found the drink.
"It doesn't put me out of the tournament," Lowry told RTÉ Sport. "I feel like where I drove the golf ball, I should have shot under par.
"Hopefully that's my bad round out of the way and hopefully I can shoot three better scores than that. If I do that, I think I'll do okay this week.
"With the forecast for Friday and Saturday, the course will dry out and that will make it tricky.
"I need to sit back with Bo [Martin] and Neil [Manchip] and look at how the day went. It's easy to stand here and be disappointed with how that finished [double bogey at 15].
"I think if I look at it, I played some really nice golf in among a few bad shots. I got really punished for the bad shots.
"The fourth hole, I hit a great four iron, I pitched in the hole and it came out and I made par. 15 was just an error on my part. It's a bit unforgivable, but it is what it is."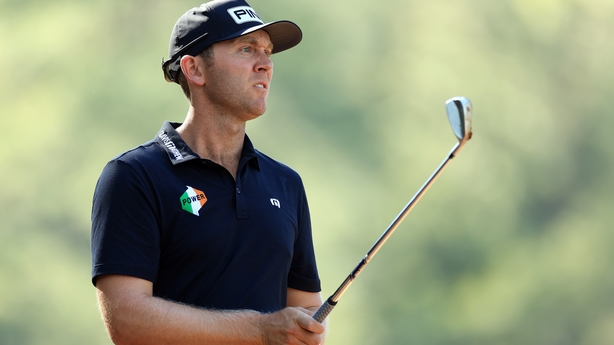 Seamus Power and Padraig Harrington are both just inside the current cut mark on two over par.
"It was very tricky," said major debutant Power. "My speed on the greens was a little bit off, and I just missed a couple of chances in because of it.
"So it was a little frustrating, but I did a lot of good things. So that was kind of encouraging. I need to take advantage of some of the opportunities I kind of gave myself. So hopefully I can do that tomorrow.
"It's tough because it's playing longer than it did, certainly more than Sunday, Monday, when I played practice rounds. With the added gust going into the breeze, the greens still are pretty firm, not as firm as they were, but you still need to hit pretty accurately into certain spots. So you're coming in with longer stuff than I was on Sunday and Monday.
"Patience is going to be massive. Good or bad start, you have to stay patient. You will get chances. It's just a matter of taking them."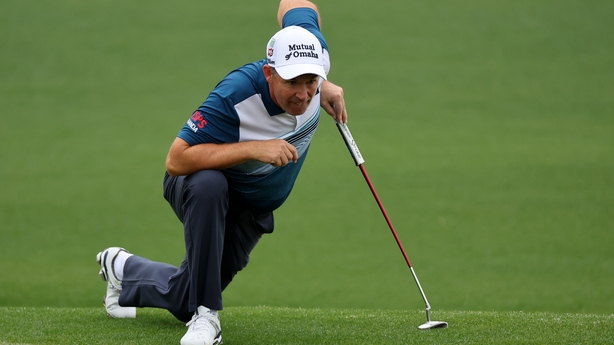 Three-time major champion Harrington was frustrated having been level par thru 15.
"I was in a nice place all day. Struggled a little bit later on," he said.
"Obviously, should have scored... better than two-over. A 70 would have been a reasonable return for the way I played.
"It was disappointing to three-putt 16 and bogey 17. That was disappointing, which besides the score, the rest of it was good in terms of I felt very comfortable. Probably more comfortable than a lot of times in the first round of a major, so that was nice.
"The course is very nice as always with Augusta. You hit good shots and you think, 'Oh, that's pretty easy', and you hit a bad shot and get out of position, and you are going, 'Oh, my God, how could they put the pin there?'
"You can feel like you can fire at the pins, make birdies from anywhere, and then you get yourself out of position, and you go, 'well, this is difficult'."
67 feet for par and a patron roar for Padraig Harrington on No. 6. #themasters pic.twitter.com/b7zwrNI8im

— The Masters (@TheMasters) April 7, 2022
This is Harrington's first appearance at the Masters sine 2015, when a second-round 77 saw him miss the cut.
"I'm a lot better now than I was seven years ago," he said. "Way, way better. A lot of the demons are buried at this stage."
Tiger Woods admitted just being able to play the Masters felt like a victory as he enjoyed the "electric" atmosphere generated by his return to Augusta National.
Woods carded an opening 71 to lie just four shots off the lead.
Asked if being able to compete was the equivalent to a victory after he suffered severe leg injuries in a car accident 14 months ago, Woods said: "Yes."
Pressed as to why, the 46-year-old added: "If you would have seen how my leg looked to where it's at now, the pictures… some of the guys [fellow players] know.
"They've seen the pictures and they've come over to the house and they've seen it. To see where I've been, to get from there to here, it was no easy task.
"I'm very lucky to have this opportunity to be able to play, and not only that, to play in the Masters and to have this type of reception.
"I mean, the place was electric. I hadn't played like this since '19 when I won because in '20 we had Covid and we had no one here, and I didn't play last year. So to have the patrons fully out and to have that type of energy out there was awesome to feel."
A Tiger roar on No. 16. #themasters pic.twitter.com/pylFuFM3PN

— The Masters (@TheMasters) April 7, 2022
Woods spent three months in a hospital bed following the single-vehicle accident on 23 February last year, when he was found to have been driving at almost twice the legal speed limit and hit a tree at approximately 75mph.
"People have no idea how hard it's been," he added.
"My team does. They've worked with me every single day. We haven't taken a day off since I got out of the bed after those three months.
"Granted, some days are easier than others. Some days we push it pretty hard, and other days we don't, but always doing something."
Asked how he would recover for Friday's second round, Woods added: "Lots of treatments. Lots of ice baths. Just basically freezing myself to death."