It was 25 years ago and he was only seven years old at the time, but Rory McIlroy's recall of Tiger Woods winning the 1997 Masters proves unerringly accurate.
Already aware of Woods dominating amateur golf in the United States before turning professional in August 1996, McIlroy was not about to miss the rising star's major championship debut in the paid ranks.
"The '97 Masters, yeah, I watched it all," McIlroy said on the eve of Woods being inducted into the World Golf Hall of Fame last month.
"He shot 40 on the front nine on Thursday, came back in 30, and then just completely blitzed the field after that. I remember him hitting wedge into 15 both days on Friday and Saturday.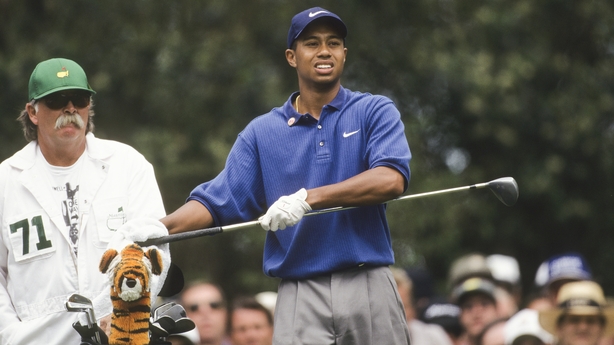 "It was just a complete masterclass. I think he went like 66, 65 on Friday, Saturday. Then he closed with a 69 on Sunday.
"I remember a lot of it. I remember being so excited to sit down and watch it. BBC was still covering it. At that point, you're still only seeing the back nine. You never really saw the front nine at that point.
"I remember sitting on the sofa with my dad and watching it and being able to stay up late to watch him win on a Sunday night before having to go to school on Monday."
Asked if he had to plead to be allowed to stay up beyond his bedtime, McIlroy added: "No, my dad would pick and choose his battles. That was one that he probably didn't want to fight over."
Speculation has been rife this week about whether or not the 15-time Major champion - who won his most recent green jacket in 2019 - will tee it up at Augusta next week.