Shane Lowry had to settle for second at the Honda Classic as Sepp Straka became the first Austrian to win a PGA Tour event.
A second successive round of 67 on Saturday saw the Offaly man move up leaderboard in a four-way share of second place heading for the tournament's climax at Palm Beach Gardens in Florida.
On Sunday, another three-under-par 67 saw him go close to earning a first win since 2019, but Straka edged it on 10-under as Lowry's putt for birdie on the 18th - which would have forced a play-off - fell short.
Straka's bogey-free back nine included birdies at 14, 16 and 18, the last of which ended up being the difference.
Kurt Kitayama posted a 68 and took third place at eight-under. Daniel Berger yielded a five-shot lead, the largest 54-hole lead in tournament history, and shot a four-over 74 to place fourth at seven-under.
Straka's wife flew in Saturday night to join his mother and other family at PGA National Resort and Spa's Champion Course.
"I didn't even know Paige was coming down," Straka told the CBS broadcast. "So this morning, when I walked down the putting green and saw her there. It was just great to have all of them here to celebrate with me."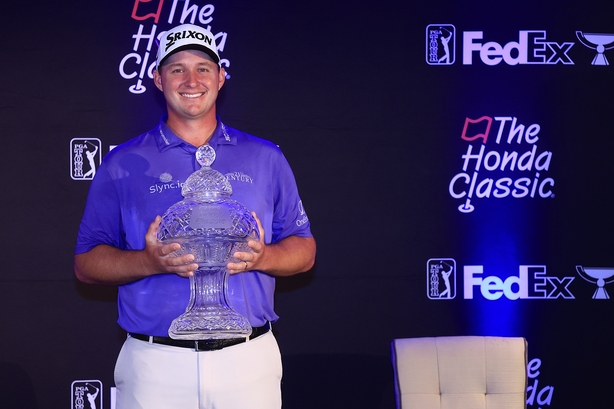 Straka played the front nine in one-under before steadying out for the back nine, including PGA National's infamous 'Bear Trap' of holes 15-17. At the par-four 16th, Straka made a nearly 19-foot birdie putt from off the green to tie Lowry for the lead at nine-under.
A heavy rainstorm popped up as Straka and Kitayama walked to their second shots at the par-five 18th and Berger and Lowry approached the 18th tee. Through the rain, both Straka and Kitayama managed to reach the green in two and two-putt for birdies, which put Straka out in front.
"For a little while there, the wind let down before the rain started and it was kind of nice," Straka said. "But then on the last hole, that second shot into the green it just started pouring rain."
Lowry missed his tee shot at 18 badly left. He managed to recover and reach the green in three shots, but his 42-foot birdie putt to force a play-off was just off.