Solheim Cup star Leona Maguire is keeping a lid on expectations as she prepares to tee a new season off in the Gainbridge LPGA at Boca Rio this week.
Maguire has yet to register a win on the Ladies European Tour or LPGA Tour, but the Cavan golfer did record five top-10 finishes in 2021.
However, it was her stellar performance in Europe's 15-13 Solheim Cup win in Ohio which thrust her into the public consciousness, with the 27-year-old claiming a record 4.5 out of five points on her debut in the competition.
Christmas afforded Maguire an opportunity for reflection after a campaign where she finished ranked 40th in the world.
"I was home for about a month and I suppose it was a busy 2020 and 2021," she said, after the announcement that her KPMG ambassadorial role will be extended for another four years.
"It was all go and there wasn't a lot of time throughout those two seasons to take stock, but Christmas is one of those times when you sit down and reflect, there's the different awards ceremonies and you see the highlights reels over again.
"2021 was a very successful year for me and I was delighted with how that went. I took a lot of the positives out of that and went to work with improving a few little things to be ready to start the season off as strong as I can."
It's a case of 'if ain't broke, don't fix it' for Maguire, who hopes to profit from the changes to her game that she made prior to last season.
"The big thing was a lot of the changes I made last winter really paid off; switching my irons, trying to get to greens, my putting - the work I put into that really helped - and the little bit of extra yardage that I picked up. It's all about making those small little gains.
"The nice thing this year will be going back to a lot of the same venues and being able to plan out my schedule knowing this early in the year that I have qualified for a few of the majors already and some of those limited-field events, which is nice and an advantage, as opposed to last year, where I had to play my way to them early in the season.
"It's a continuation of where we left off. I'm trying to learn from things last year, some of the golf courses and some of the changes I made.
"Overall, I'm not trying to do anything radically different, and that's also in terms of expectations, not putting too much pressure on myself, not trying to force things.
"I know my game is close. It was good enough to perform at the Solheim Cup, it was good enough to get me into contention at some LPGA events, shoot a 61 at Evian [equalling the lowest round in major history]. It's not very far away, so I'm not reinventing the wheel and not putting any unnecessary pressure on myself to have to perform straight away."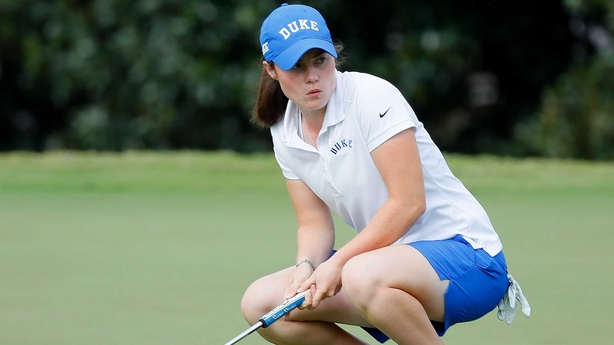 The Duke University alumnus is relishing a return to the state where she spent her college days for the US Open at Pine Needles.
"I haven't played in the US Open in two years. It's a bonus that it's in North Carolina. I'm going back to somewhere that I've spent four great years at Duke and it's a part of the country that I really enjoy playing in.
"The majors are our biggest events and the events you want to be doing well in. The preparations will be focused around them and trying to peak around those events. I'm looking forward to going to Congressional, where obviously Rory (McIlroy) won one of his majors and Pine Needles as well.
"I've never made the cut at the US Open and that has to be the first goal, to actually make the cut at the US Open, let alone winning it or trying to finish in the top 10."
Dermot Byrne, who previously enjoyed a lengthy association with Shane Lowry, assumed caddie duties in the middle of last season, and Maguire lauded his expertise.
"Dermot was a huge help to me in the majors in how to plan out those venues, the holes to play a little bit more conservatively on and the holes to tackle more aggressively," she said.
"It's nice to have him on the bag with that sort of experience of those venues. He was with Shane at Congressional, so it will be nice to get his take on it."
A nominee for the RTÉ Sportsperson of the Year accolade, Maguire admitted that a shortlist which included five other women felt like a watershed moment in Irish sport.
"At the RTÉ Sports awards, having so many females nominated, a few years ago that would have been unheard of, we never would have dreamed of that.
"To have so many that deserved to be nominated, I was very proud to be included on lists like that regardless of who won. It was a phenomenal year for Irish sport and I was very proud to be a part of that."