Shane Lowry was deeply disappointed after Europe's heavy Ryder Cup defeat to the USA, but the Offaly man admitted he'd been bitten by the bug of an intoxicating tournament that stirred huge emotions over the weekend.
Lowry lost his singled match against FedEx Cup winner Patrick Cantlay on Sunday 4 & 2 as the hosts cruised to an emphatic 19-9 success.
However his brilliant 10-foot on the 18th on Saturday - which sealed a dramatic win with Tyrrell Hatton over Tony Finau and Harris English - was one of the competition's highlights and gave Lowry a taste of the huge highs Ryder Cup golf can deliver.
"I've loved every single minute of it," he told RTÉ Sport as he reflected on his maiden Ryder Cup appearance.
"I've loved being a part of this team playing with such legends of European golf, being a part of Paddy's team. I feel very disappointed for Padraig.
"I think he doesn't deserve this. He's one of the greatest players to have ever played the game from Europe. He's one of Ireland's greatest ever sportsmen. He's one of my best friends. I'm just so disappointed I couldn't go out and do better for him.
"But it's been an unreal week. I can't describe how good it's been. Like, we got absolutely hammered... it's so disappointing. I don't even know what to say. I'm here waffling. I'm just so disappointed. I'm disappointed for Paddy, I'm disappointed for me, I'm disappointed for all the lads, but it's been an unreal experience.
"There's no doubt I'll have a few more of these in me. I never want to miss one of these again. It's been incredible. I feel like I've a lot more to give to this tournament."
"It's been an unreal week. I can't describe how good it's been."
A crestfallen Harrington was gracious in defeat, adding: "We came up against a very tough, formidable US team that really played well, performed, got the job done. Fair play to Steve Stricker and his vice captains.
"From my perspective, when you're on the losing side it's tough to take.
"If you take on the job you're putting yourself out there and you may end up where I am. That's the reality of the job."
Harrington will come in for criticism in the wake of a heavy loss but the players were keen to fight his corner.
Ryder Cup veteran Ian Poulter was another who sprang to the defence of the captain as he highlighted a number of factors which contributed to the loss, not least the fact the USA's team contained nine of the world's top 11 players.
"The toughest bit about all of this is this is going to be hard because Paddy will be questioned and that is not fair," Poulter told Sky Sports.
"He has done a great job but we have been outplayed. To what he has given to his captaincy he has done a really nice job.
"Paddy [Harrington] has done an amazing job. Paddy and [his wife] Caroline have given us a team atmosphere and incredible bonding team room.
"That room and group of players we had this week are special guys. It is not fair when you look at the score."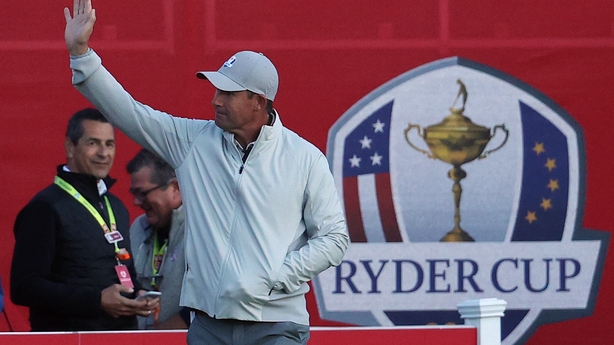 Poulter was tearful after his three and two win over Tony Finau, with the realisation dawning on the 45-year-old it could be his final appearance.
The Englishman was playing his seventh Ryder Cup courtesy of a captain's pick and extended his unbeaten singles record to six wins and a half.
"You put a point on the board and that's all very nice but it doesn't mean anything," he added.
"OK, I'm unbeaten in singles - it's nice personally but this is a team week and it is deflating.
"As a senior player in the team you don't really think there is many more left. I wanted to come here this week and give everything and in the first two days I didn't manage to do anything.
"Today was to give something back but you just don't know if you get the opportunity to go again.
"We have a good young team. We have a team of good young players who will take this forward for many years."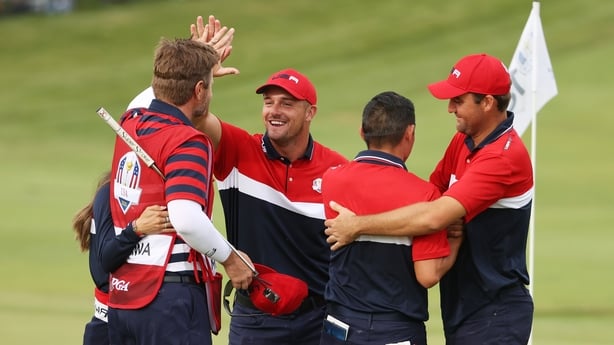 Poulter was one of the key figures in the Miracle at Medinah in 2012 when Europe recovered from 10-6 down to win on the final day.
So he knew better than most the task which faced them at Whistling Straits was pushing the realms of probability against arguably the strongest team the United States had fielded.
"Congrats to Team USA. When you look at the points, they have outplayed us this week," he added.
"They owned each of those sessions on Friday and Saturday and that's not always been the case.
"When we are left with a mountain to climb it is going to be tough and you always want to feel you have a chance and we wanted to come out unbelievably strong but they made it tough.
"They played better than us this week. All credit to the US team. It was never supposed to be easy."