An emotional Rory McIlroy fought back tears as Europe's Ryder Cup challenge faded on the final day at Whistling Straits.
The four-time major winner beat his US opponent Xander Schauffele 3&2 in his singles match to earn Europe a point, but Padraig Harrington's team were eventually defeated when the United States got to an unassailable 14 and a half points.
"I love being a part of this team. I love my team-mates so much and I should have done more for them this week," said an emotional McIlroy, fighting back the tears.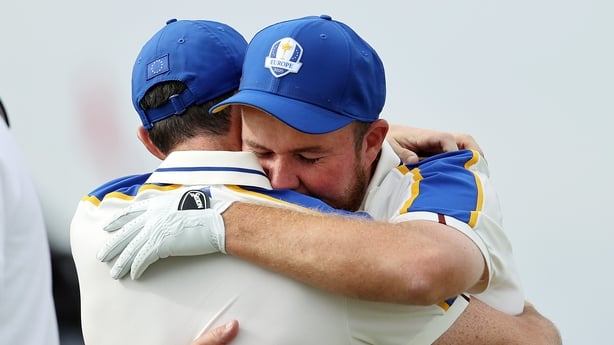 "I'm glad I put a point on the board for the team today. I just can't wait to get another shot at this. It is by far the best experience in golf and I hope there are boys and girls watching this today who aspire to play in this event or the Solheim Cup.
McIlroy, who famously described the Ryder Cup as an "exhibition" before making his debut at Celtic Manor in 2010, added: "It's been a tough week but the more and more I play in this event I realise it's the best event in golf bar none. No matter what happens after this I am proud of every single one of the players that played this week, I am proud of our captain and vice-captains."
Shane Lowry briefly led against FedEx Cup winner Patrick Cantlay but never recovered from losing the fourth, fifth and sixth and eventually lost 4&2.
?? "I love my team-mates so much and I should've done more for them this week."

An emotional Rory McIlroy reflects on ending his #RyderCup by winning a point for #TeamEurope in the Sunday singles. pic.twitter.com/3p7GY2bYJf

— Sky Sports Ryder Cup (@SkySportsGolf) September 26, 2021