There's a school of thinking in golf that for the Ryder Cup to remain as the pre-eminent competition in the sport, it needs a more balanced set of results – a kind of code for the notion that American interest might start to taper if another defeat is inflicted upon them after four reversals in the last five matches.
Extend that record of American losses back further to the start of the 21st century and it's just two wins out of nine, while you have to go back to 1993 for the last time the USA managed to retain the trophy.
All of which seems to place this Ryder Cup at a pivotal point in the 94-year history of the matches because if the strongest American team in the 35 years of the world rankings cannot win on home soil with virtually no away fans present, then questions will be asked that no amount of ping pong-bonding games and task forces are likely to provide an answer to.
So it looks like a match between a team whose player strength needs to be countered by another plucky underdog performance if we are to be entertained in the expected manner over the next three days. It's a recurring theme in Ryder Cups and one Europe seem to revel in because they have won seven of the last nine matches since the turn of the century when, more often than not, they have not been favourites.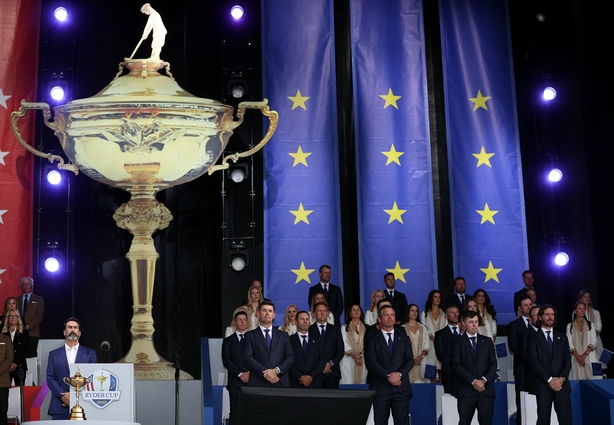 At least the pre-amble this week has featured none of the 'them against us' rhetoric so common in press conferences during previous Ryder Cup weeks, most notoriously in 2016 when an article written by the brother of European team member Danny Willett which painted an unflattering picture of American fans, effectively holed Darren Clarke's team effort beneath the waterline before the first ball was struck.
With a baying crowd taunting the Europeans from the first contact of ball-on-club, the USA took all four points from the first session five years ago and were never caught.
This week, the only stories which seem to be emerging are about what's happening within the American team and whether their undoubted individual talents can be consolidated into a unit.
Already though, there are a few cracks appearing. On the eve of the competition, Brooks Koepka felt a need to explain remarks he made in a Golf Digest interview last week where he alluded to the notion that team sports were not in his DNA and that the Ryder Cup was "odd" and "hectic" and threw him out of his usual routine.
"Y'all spun it that way," he said this week. "I've never played any of these team events. I didn't play Walker Cup. Never played Junior Ryder Cup. Never played anything. I just said it's different. That doesn't mean it's bad," he added.
Then there have been attempts by US Ryder Cup captain Steve Stricker to try and get past the fact that two of his team have openly been in dispute for most of the year, which led to a clunky attempt to smooth the waters with a clearly pre-arranged video of Koepka and Bryson De Chambeau chatting on the practice ground this week.
Asked afterwards about how he and Bryson are getting on, Koepka said without warmth: "We are on the same team together. We've had dinner almost every night as a team. I got here on Monday. Everyone who is on our team is interacting and everybody is participating in conversations and doing everything we need to do."
USA 🇺🇸 pic.twitter.com/cX9RIzQgRJ

— Ryder Cup USA (@RyderCupUSA) September 21, 2021
And then there's the De Chambeau fascination with another event next week in Nevada, the World Long Driving Championship. "My hands are wrecked from it," he said last week about his twice a day preparations for a competition that directly follows the Ryder Cup. "People don't realise how difficult long drive really is."
You can almost hear the words "….focus Bryson, focus…" emanating from his captain's mind.
Outliers they may be, compared to their other 10 team-mates, but the apparently ambivalent words and actions of Koepka and De Chambeau echo back to shades of when Tom Weiskopf went on a hunting trip in 1977 and decided not to play in the Ryder Cup, although in his case that was due to the overwhelming dominance of American teams.
Still, even with the static going on in the background, sheer player power is still stacking the odds in the American's favour. An average world ranking of ninth compared to an average of 30th for Europe looks formidable, but only if they come together as a team in a sport predominantly pursued as individuals.
Europe have upended lopsided statistics before, largely because they have cultivated a tradition of being easy in each other's company - forming a bond by osmosis and not process - and somehow playing beyond the sum of their parts.
The reputations of Ryder Cup warriors like Poulter, Westwood and Garcia, who have amassed over 60 points in the competition, are bolstered at the other end of the experience spectrum by hungry high-achieving rookie talent like Viktor Hovland and Shane Lowry, with the likes of four-time major winner Rory McIlroy and current world number one Jon Rahm adding real star power.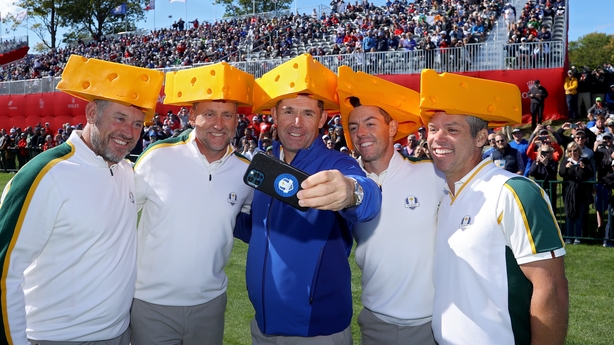 And so far Europe have been captained superbly through the commitment-heavy practice days. Whatever reservations Padraig Harrington may have had at the outset of his captaincy regarding his ability to put an arm around a player and reassure them, he's been a fount of good humour and a touchstone of inspiration in how he has unfailingly looked at the daunting task ahead with glass-full optimism.
Of course the litmus test of his leadership will begin in session one of foursomes which is a format in which Europe have held the upper hand 23-17 over the last five Ryder Cups.
His pairings will see John Rahm and Sergio Garcia first out at 1.05pm against Justin Thomas and Jordan Spieth.
They will be followed by Paul Casey and Viktor Hovland against Dustin Johnson and Collin Morikawa.
In the third foursomes match of the morning, Lee Westwood and Matt Fitzpatrick will face Brooks Koepka and Daniel Berger.
And the anchor match will see McIlroy and Poulter play Xander Schauffele and Patrick Cantlay.
Harrington has stated that he is almost certainly going to play all 12 of his team on day one so we can expect to see Lowry on the course for Europe in the afternoon fourballs.
Follow the Ryder Cup via our live blogs on RTÉ.ie/sport and the RTÉ News app on Friday, Saturday and Sunday.