Rory McIlroy has been inspired by the European team in the Solheim Cup as he looks to borrow their demeanour for the Ryder Cup this week.
McIlroy watched on as a calm and collected away team upset the odds on US soil, winning 15-13, with Leona Maguire the star of the European side.
Yesterday the 32-year-old told reporters that he will try not to repeat his "animated" behaviour at Hazeltine in 2016 in which he faded after a hectic schedule.
Ahead of this week's event, the four-time major winner has taken a lot from the European performance in Ohio.
He told RTÉ Sport: "We need to follow the blueprint of what the girls did a few weeks ago. The way they went about their business....I thought they did a really good job of being quite stoic the whole week.
"They were putting points on the board, not getting too animated or too excited and just getting the job done.
"Leona Maguire was amazing and if we can follow the girls' example this week we'll be doing something pretty well."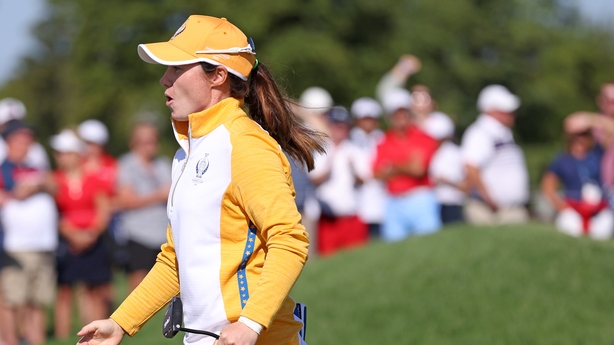 European captain Padraig Harrington has suggested he will stick with his masterplan of pairings and not rely on last-minute instinct, with focus on these shores on whether McIlroy will play alongside countryman Shane Lowry.
McIlroy admits he would love the chance to play with his friend and now near-neighbour, saying it would be standout moment of the competition.
"We play a lot of golf together, we get on great, we live close to one another now when Shane and his family spend time in the States. We live 10 minutes from each other in Florida.
"If we get a game with together this week, that would be wonderful. We'll have to wait and see.
"If we were to get a game together I'd be delighted to tee it up with Shane and it would be a highlight of my week."
Traditionally the European team draw on an underdog status – and have been much more united that their Ryder Cup rivals.
However, the emergence of a vast array of tournament and major-winning Americans still makes them heavy favourites, with a formidable team chosen.
The Whistling Straits course is also suited to the hosts but all of that is not weighing on the mind of one of the most experienced members of the European side.
"I would say let the statisticians do whatever they want and spout whatever numbers they want because at the end of the day the Ryder Cup is played on grass, not on paper.
"There has been a lot of times when we have come in as underdogs and prevailed. We know it will be a difficult ask task this week but it can't not get your juices flowing.
"You're not just playing for yourself, you're playing for team-mates, captain and support staff. There is a lot to go into it and just because their world rankings are higher, by no means we can't win.
"It's an American set-up but it's obviously a very links style visual. But it is more of an American golf course. It's matchplay so all you have to do is beat the guys you're up against. It's not really about the course, it's about the opponents. As long as you beat the players you are facing, that is job done."
Follow the Ryder Cup via our live blogs on RTÉ.ie/sport and the RTÉ News app on Friday, Saturday and Sunday.