Rory McIlroy lost further ground on the leaders at the US PGA Championship with a third-round 74, while Shane Lowry and Padraig Harrington will both begin the final day on one-over par.
The 2012 winner McIlroy failed to take advantage of more benign conditions on the Ocean Course on South Carolina's Atlantic coast and slips to five-over par.
Lowry and Harrington however are four shots better off after both men carded rounds of 73.
---
---
When McIlroy won in 2012 at Kiawah Island, it was a third-round 67 which helped propel him to victory; nine years on it was a completely different story.
With the remaining field separated by 10 shots following the halfway cut, McIlroy may have harboured hopes of a fast start on Saturday to get back into contention for a first major title since the second of his US PGA victories in 2014.
But those hopes suffered an immediate blow when he hit his opening tee shot into the water, before seven straight pars were followed by a much needed birdie on the ninth.
For the second time this week McIlroy then found water off the tee on the 10th and although he again escaped with a bogey as he had on Thursday morning, further dropped shots followed on the 11th and 15th.
The Irishman finished with a 74 that left him on +5 overall.
McIlroy's frustrations will have been increased by a glance at the scoreboards dotted around the course, a change in wind direction contributing to improved scoring conditions for the early starters.
"I just haven't played the par fives well," said McIlroy, whose last major victory was his second US PGA title in 2014. "At least today I didn't play them in over par, I played them in even.
"I'm five over for the championship and I think most of that's been the par fives. I need to do some other things better as well, but that certainly hasn't happened.
"I've put myself out of position a little bit with a couple of the tee shots on the par fives and that's cost me.
"Still a little bit of work to do, not quite feeling like it's all there, and that's what it course does. It exposes where you're not at your best, and certainly this week that's been off the tee."
Asked what he needs to improve, McIlroy said: "It's being a little tidier around the greens, it's hitting a few more fairways, it's taking some of your chances when you do hit good iron shots, instead of making the pars, you make the birdies. Just getting some momentum.
"I just feel like I haven't had any momentum this week. When you start the way I did today with a bogey and then you don't make a birdie on the second hole, you're just always trying to play catch up, and it's hard to on this golf course because there's very few opportunities where you can be really aggressive."
Harrington and Lowry both started at level par but were one over by the turn. Dropped shots at 14 and 15 saw the Offaly man slip down the standings, but responded with successive birdies.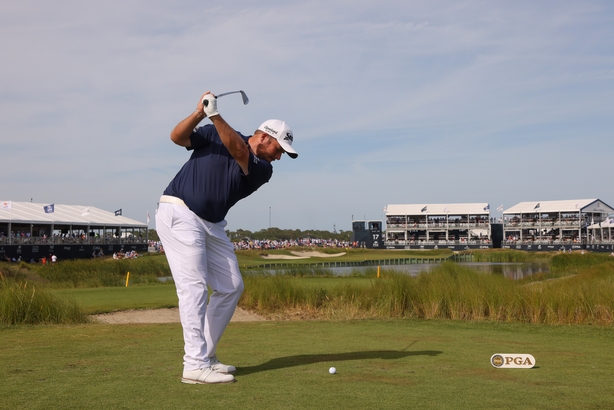 A superb approach shot from Harrington at the par-four 15th was key to his birdie to recover from a bogey on the previous hole.
Lowry expressed frustration with his round but added that he held out hope of making it into the top 10 in Sunday's final round.
"I'm frustrated, I'm disappointed because I feel like I had a round in me today, especially where I drove the ball to. I feel like there's a good score out there," he said.
"I think I only missed a couple of fairways, and yeah, it's disappointing. I finished strong. I kept battling. It was nice to birdie 16 and 17. But live to fight another day, try and go out and shoot a decent score tomorrow and have a good week. I can still sneak a top 10 out of it or a top five or a good finish if I can shoot sort of four or five under tomorrow."
But he added that he was happy with his week overall and where his game is at currently.
"Coming into big tournaments, coming into majors and bringing your best golf, it's quite pleasing. I feel like I had that," he said.
"If I had hold a couple more putts in the first round, a couple more putts today, it could have been a whole different ball game this week. I'm still quite pleased about where my game is at. I'm very upbeat. I'm very positive going forward sort of thing."