Shane Lowry admitted that the par 5s cost him on day one of the Masters at Augusta.
Despite his failure to capitalise on the longer holes' birdie opportunities, the Offaly man is still in a tie for eighth on one under par after the first day's play. But it was all about his playing partner Justin Rose, whose 65 gives him a four-stroke lead over the chasing pack as he finished on seven under.
For Lowry, a birdie on the last was a positive way to wrap up the round, and he admitted that reading the leaderboard afterwards was a bit of a shock.
"I was surprised when I came in and saw I was lying tied eighth, especially playing with Rosey and what he was doing," he said.
"I even said to him inside; he didn't do anything outrageous, he didn't hole many long putts or chip in. It was just very solid. It was a joy to watch that round of golf.
"I know Justin shot seven under but apart from him the scoring is showing how much of a grind it was.
"I feel like I played good. I made a couple of bad errors 10 and 15. They were a bit silly. But I was very proud of myself the way I hung on.
"The golf course - I have never seen it like that. It was great, I loved it. I have always wanted to play Augusta like this in the Masters. [It was] firm and fast with putts getting away from you."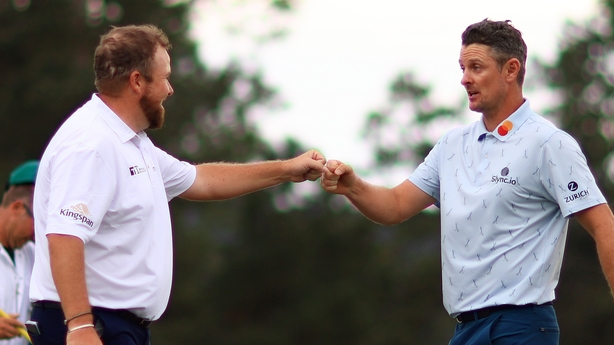 Lowry reached the turn on two under par before a double-bogey on the 10th threatened to derail his round.
He steadied the ship before again going off piste when he found water on the 15th. But once more the 2019 Open champion didn't panic, birdieing two of the last three holes stay in the hunt.
"I knew it was a difficult shot but I messed up myself," he said of his wet landing on 15. "I didn't even strike it bad, I just hit it a fraction too hard.
"That's just the way it is. That's just this golf course. And that's one of the easier pins from over the back of the green, so it will be interesting to see what it's like the rest of the week.
"It was a mistake. I did well to get the next one up and down and make six and I finished nicely so I was very happy with that.
"I am disappointed today myself that I play the par fives one over today when I should've shot one under.
"I need to play them better the rest of the week if I am to have a chance I'm doing something special here this weekend."