Shane Lowry is hitting the ball well, but his short game is letting him down at the moment according to former professional Gary Murphy.
The Offaly man has struggled to get back to his best since his British Open Championship win back in July 2019.
On Friday he missed the cut at the Arnold Palmer Invitational after shooting rounds of 75 and 74 to finish on five over par. It was the second time he had missed the weekend's play in his last five starts, going back to the Abu Dhabi HSBC Championship.
Speaking on RTÉ's Sunday Sport however Murphy said that it's not all bad for Lowry.
"Lowry is struggling massively on the greens," he pointed out.
"Tee to green he's fine. His attitude is brilliant this year. That's one thing I would always look at with Shane - if his attitude is good he will perform.
"This is the thing with golf. He's probably working harder and trying harder than he would and it's just not happening at the moment.
"It's just to not let it seep into his long game because when you're struggling on the greens your immediate instinct is to force yourself to hit the ball closer to hole puts.
"And then that can just filter through the rest of your game.
"It's a 25-30 tournament season for him (and) he has to break it down like that. He's had a terrible start but there's a lot of good stuff in there.
"(He has to) not try force it too much and just wait for it to come around."
Another player who missed the cut on Friday was Graeme McDowell, who also finished on five over par.
It's a third missed cut for the county Antrim man this year, with his last victory coming at the 2020 Saudi International.
"Graeme is maybe coming to end of the top end of his levels," suggested Murphy.
"I know he did win last year in Saudi (but) it's just with his length it's such a disadvantage and he really has to be at 100% to compete these days.
"He'll have his weeks where certain courses will suit him."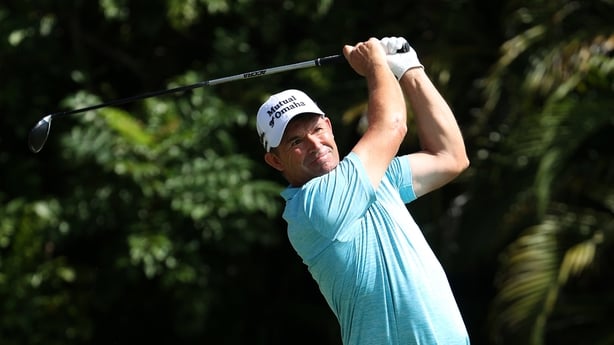 For European Ryder Cup captain Padraig Harrington, his solid recent form has continued and he heads into today's final round in a tie for 29th place, eight shots off leader Lee Westwood.
The Dubliner tested positive for Covid-19 at the start of last month which coincided with a couple of missed cuts following his tie for 6th place at the Omega Dubai Desert Classic in January.
Murphy says that Harrington's ultra-competitive nature means that there should be plenty more left in the tank in 2021.
"Westwood was saying that he was trying to feel like a 20-year-old Lee Westwood again - I think Padraig is still about 15!
"He just loves it and it was great to see him getting over Covid so quickly. He has a huge year off the course with the Ryder Cup captaincy, but you can guarantee all he wants to do is win.
"If he can get another win on the PGA Tour at some stage that's what motivates him and it's great to to see him doing well."