Tiger Woods has been taken to hospital for surgery on "multiple leg injuries" after being extricated from his car following a single-car accident in Los Angeles.
Fire crews took the 15-time major winner from his vehicle after it rolled over and suffered major damage.
Woods' injuries were not believed to be life threatening. Citing a Los Angeles law enforcement source, CNN said that he had suffered "compound fractures in his legs".
"Tiger Woods was in a single-car accident this morning in California where he suffered multiple leg injuries," said Woods' agent Mark Steinberg.
"He is currently in surgery and we thank you for your privacy and support."
A statement from the Los Angeles County Sheriff's Department read: "On February 23, 2021 at approximately 7.12am LASD responded to a single vehicle roll-over traffic collision on the border of Rolling Hills Estates and Rancho Palos Verdes.
"The vehicle was traveling northbound on Hawthorne Boulevard at Blackhorse Road, when it crashed. The vehicle sustained major damage.
"The driver and sole occupant was identified as PGA golfer Eldrick "Tiger" Woods."
Los Angeles County Sheriff Alex Villanueva said there was "no evidence of impairment" but that Woods appears to have been traveling at a "relatively greater speed than normal" in the early morning accident. Villanueva said there were no skid marks or signs of braking.
Woods's vehicle travelled "several hundred feet from the centre divider" and sustained "major damage".
Sheriff Villanueva added that Woods was "conscious and able to communicate" with emergency personnel at the scene.
The 45-year-old was in "a stable condition with serious injuries" when he was taken to Harbor UCLA Medical Center.
The interior of the vehicle, a 2021 Genesis mid-size SUV, was "thankfully more or less intact which gave him the cushion to survive otherwise what would have been a fatal crash," Sheriff Villanueva added.
Deputy Carlos Gonzalez of the Los Angeles Sheriff Department was first on the scene and said Woods was "not able to stand under his own power" before being removed from the vehicle.
He said that Woods was wearing his seatbelt and was "still calm and lucid" when he told him his name.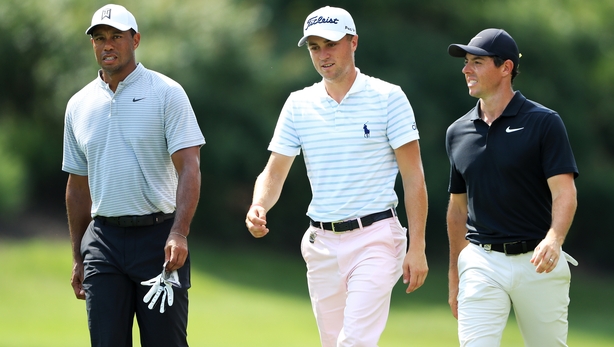 Speaking at a press conference ahead of the WGC-Workday Championship, an emotional Justin Thomas expressed his concern for Woods and his two children, Sam and Charlie.
"I'm sick to my stomach," Thomas said. "You know, it hurts to see one of your… now one of my closest friends get in an accident.
"Man, I just hope he's all right. Just worry for his kids, you know. I'm sure they're struggling."
Former United States alpine ski racer Lindsey Vonn, an ex-girlfriend of Woods, tweeted: "Praying for TW right now."
Woods, 45, was at Riviera Country Club at the weekend as host of the Genesis Invitational, but was not competing following recent back surgery.
Pictures on social media showed Woods smiling with comedian David Spade and basketball star Dwayne Wade as they filmed content for GolfTV.
Speaking at the weekend, Woods said he hoped to be able to contest the Masters in April following a microdiscectomy to relieve a pressurised disc fragment in January.
Asked if he would be at Augusta National, Woods said: "God, I hope so."
In a statement, the PGA Tour said: "We have been made aware of Tiger Woods' car accident today. We are awaiting further information when he comes out of surgery.
"On behalf of the PGA Tour and our players, Tiger is in our prayers and will have our full support as he recovers."