Viktor Hovland would relish making his Ryder Cup debut under "geeky" European captain Padraig Harrington.
Hovland only turned professional after finishing 12th in the 2019 US Open with a four-under-par total of 280, breaking Jack Nicklaus' championship record for the lowest 72-hole score by an amateur.
But he has since won twice on the PGA Tour and climbed to 12th in the world rankings, putting him firmly on Harrington's radar for September's contest against the United States at Whistling Straits.
Harrington has even spoken of Hovland playing all five matches on his debut and the 23-year-old Norwegian said: "That would be awesome. I love match-play and it seems to bring out the best in my game.
"I have some good memories from the National Championship in the States and US Amateur (which he won in 2018) and some cool memories from the junior days in Europe playing the European Boys' Team Championship.
"So I have a lot of fond memories in match-play and I'm still young enough to where I feel like I can play five rounds, but it's obviously up to the captain and the rest of the team, and I'll first need to make the team but if I do so, I'll do whatever is necessary. I'm fine with anything but I'd love to play."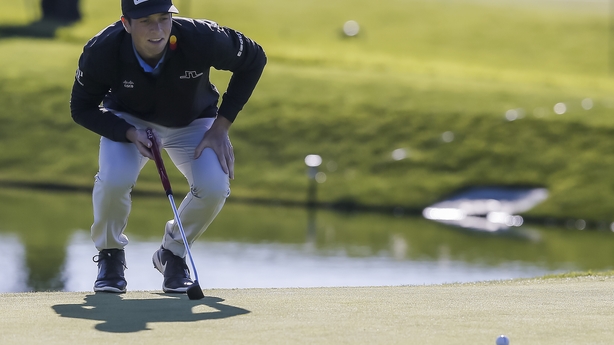 Hovland has competed in just four regular European Tour events ahead of this week's Saudi International, but played alongside Harrington in the 2019 BMW PGA Championship, where he finished 11th.
"I had a good two days with him," Hovland added. "Got to spend some time and talked about golf in general and some other things.
"He seems like a very intelligent person, thinks things through and kind of geeky in a sense. Don't mean that in a bad way. But he's very into golf and he has a lot of passion."
While Hovland could make his Ryder Cup debut at Whistling Straits, Phil Mickelson has not given up hope of a 13th consecutive appearance in the contest at the age of 51.
However, the five-time major winner is currently 40th in qualifying and looks more likely to be part of captain Steve Stricker's backroom staff.
"It would be an honour to be part of the team as a vice-captain if that's what Steve Stricker wants," Mickelson said. "I would like to obviously play but as we stand right now I have not played well enough to warrant consideration."
Asked if he had already spoken to Stricker about being a vice-captain, Mickelson added: "Nothing I'd care to discuss publicly, but we are very good friends."