Graeme McDowell has not give up on his Ryder Cup dream and said he's willing to help Padraig Harrington's European team in any capacity he possibly can.
McDowell, 41, has featured in four Ryder Cups and flourished on the high-pressure stage every time.
The Portrush man has enjoyed three victories against the USA, memorably holing the title-winning putt at Celtic Manor in 2010. He was a vice-captain under Thomas Bjorn at Le Golf National in 2018.
Currently ranked 91st in the world, McDowell concedes he's facing a tough task to be picked as a player for this year's edition but the desire is still there to prove his worth.
"Match-play was something I grew up with," he said ahead of this week's Saudi International, which he won last year.
"I feel in Britain and Ireland, especially, certainly when I was an amateur golfer, there was a heavy weighting of match play, and I felt like I enjoyed match play and I was a good match player.
"I think that's one of the reasons why I've enjoyed the Ryder Cups, won a World Match Play. I enjoy the different psyche of kind of the man-against-man in a match play-type format.
"They are in a special place in my heart and I would love to play another one."
"I wish we maybe played a bit more of it perhaps at the professional level, but certainly the Ryder Cups, greatest experiences of my career, all four of them, for very different reasons, each one of them.
"They are in a special place in my heart and I would love to play another one. I would love to play this year. I think it would great to obviously play under Padraig but it goes without saying if I don't make the team as a player, I would love to help, love to be in the team room, love to be alongside Padraig and do everything I can to support the European team."
McDowell expressed his ambition to be a European captain one day, adding: "I want to learn the mechanics of what it takes to be a great captain by being a vice captain and kind of studying under these guys.
"I did it in Paris in 2018 under Thomas. I think it's a really interesting job, and it's an interesting undertaking to create 12 guys and create an environment, a winning environment, 12 different personalities, try and put them together, the chemistry.
"So much goes into it and it's really intriguing to me. I look forward to the day where perhaps I'll have an opportunity to lead the European team into a Ryder Cup.
"But for the time being, my dreams of playing are still real and like I say, if I'm there, great. If I'm not, if I'm not playing, I'm 100% ready to do whatever I can for Team Europe."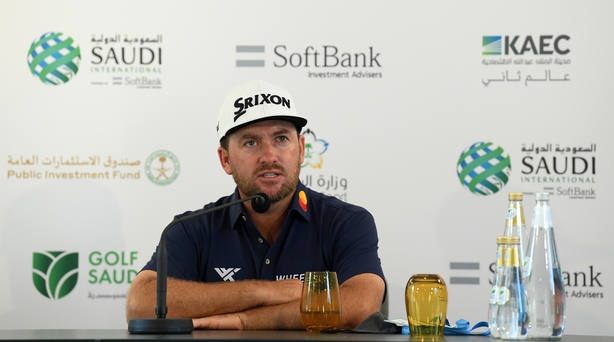 McDowell also defended Patrick Reed after the American found himself in the eye of a rules storm at the Farmers Insurance Open. 
Reed won the tournament but all the talk was of incident in his third round, when he he picked up his ball on the 10th hole before calling over a rules official to confirm it was embedded in soggy ground.
Replays subsequently showed the ball actually bounced before coming to rest, but he still was awarded a free drop and salvaged par. The move was ultimately considered within the rules, although ethical questions remained.
"I felt like he pretty much went about the procedure the way you're supposed to," said McDowell.
"You know, unfortunately, he's created a name for himself which attracts a huge amount of attention when he does things.
"I like Patrick. I think he's a good kid. I think he's a great player. I feel bad that he has created the label for himself that he has because I think he's such a talented player, you know. So I hope we can move on from it and see him for the player he is."