Rory McIlroy slipped out of contention on the final day of a tournament once again, finishing eight shots adrift of Patrick Reed at the Farmers Insurance Open in San Diego, California.
World No 7 McIlroy started the day three behind Reed and Carlos Ortiz (who collapsed to a 78) and was two under par for the front nine before the wheels came off.
A bogey on 10 was followed by another on the par-five 13th and despite getting a shot back on the next hole, his chances ended with a double-bogey on 15.
McIlroy carded 73, his first over-par round of the tournament, to finish on -6 and a share of 16th place.
The Northern Irishman's final-day performance mirrored that at the Abu Dhabi Championship last week when he led going into Sunday but finished third. 
The four-time major winner has not tasted victory since the WGC-HSBC Champions in November 2019 and has seen several leading positions evaporate in the meantime.
Reed pushed aside a weekend of controversy to shoot a steady four-under-par 68 and finish on -14, well clear of five players on -9: Tony Finau, Swede Henrik Norlander, Ryan Palmer, Xander Schauffele and Norwegian Viktor Hovland, who was Reed's closest challenger before bogeying three of his final four holes.
Will Zalatoris, Lanto Griffin and Jon Rahm were a shot further back.
Reed was the talk of golf Saturday and into Sunday morning after he picked up his ball on the 10th hole during Saturday's third round before calling over a rules official to confirm the ball was embedded in soggy ground.
Replays subsequently showed the ball actually bounced before coming to rest, but he still was awarded a free drop and salvaged par.
The move was ultimately considered within the rules, although ethical questions remained.
Fuelling the scrutiny was an episode in 2019 where Reed appeared to ground his club in a bunker before playing a shot.
"My biggest takeaway was mentally, I hung in there and stayed the course," Reed said after his ninth career victory.
"We felt like we did (the right thing), the rules officials felt like they did that at the same time so with that being said I felt fine, I felt great throughout the day. And at the end of the day, I wouldn't have felt any other way. I was able to shoot a low number (Sunday) and get the job done."
McIlroy had found himself in a similar situation in Saturday's round when his second shot on the 18th ended up in the rough. TV replays showing his ball had bounced on route and he received free relief.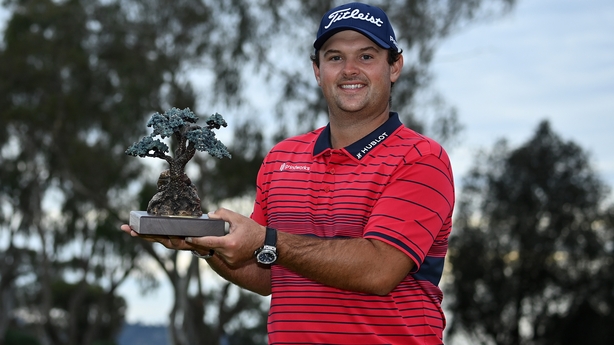 The PGA Tour concluded, in a statement, that "it was virtually the same situation that Patrick Reed faced on No 10 during the third round" and that they were "comfortable with how both players proceeded given the fact that they used the evidence they had at the time."
Speaking after Sunday's round, McIlroy said that he felt he had been within the rules.
"I've never tried to get away with anything out here. In golf you'd rather be on the wrong side of the rules than the right side of them just to - because that's just what our game's about," he said.
"Our game is about integrity and it's about doing the right thing. I always try to do the right thing and hopefully people see that. I feel like I have a reputation of that.
"Yesterday (Saturday) was one of those things that I guess Patrick [Reed] and I both went on the information that we had and made those determinations. I guess people can jump to conclusions, but at the same time we were I guess well within our rights to do what we did."
The victory sets up Reed to be among the favourites for the U.S. Open in June, which will also take place on Torrey Pines' South Course.
"It gives me the confidence since I will see (the course) again in June during the U.S. Open," Reed said.
"You know it's going to play tougher, you know the rough is going to be thicker even though it's already thick. The greens are probably going to get firmer, the golf course is going to get tighter."