As US Open aficionados will know, outside the Black Course at Bethpage, there's a famous sign to deter high handicappers.
It's golf's closest equivalent to the age classification on movies or the parental advisory stickers on Slipknot albums.
"The Black Course is an extremely difficult course which we recommend only for highly skilled golfers."
Perhaps one day, an association of rubbish golfers will challenge the sign as discriminatory before the Supreme Court but until then it remains a part of modern US Open lore.
The US Open returns this week to a venerable old course in Mamaroneck, also in the State of New York, which, based on its most recent visit there in 2006, should be recommended only for masochists.
The 2006 competition was a humdinger even if it ended being traumatic for so many of those involved.
I recall it for being the last major sporting event I 'watched' via teletext. (I must confess that when I joined RTÉ I thought teletext had been put out to pasture several years before until a man rang the desk one Saturday afternoon to alert us to the fact that the racing results from York were updating slowly on Aertel.)
It was a bewildering finale to endure via this oddly gripping medium.
C'mon, will Harrington win it? Will he get it done? Oh, that bogey was costly! Look, MONTY! What a birdie! Oh, he could finally, finally do it! How old is he now? He must be the oldest guy ever to win a ma-- oh, he's blown it. It's Mickelson's to lose now I suppose. He can't stop winning at the moment… He's double-bogeyed the last as well!!! What the… What does this mean? Who's actually won this… Geoff Ogilvy?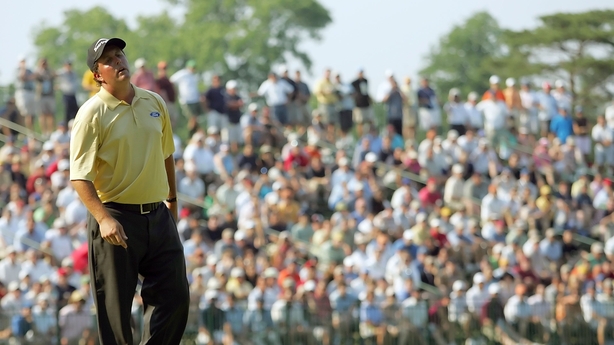 Golf Digest took a bit of heat this week over the re-publication of a two-year old listicle on 'The Most Underwhelming US Open champions', which listed Michael Campbell at No. 1.
But it's no disrespect to Geoff Ogilvy, who won three WGC Championships, to say that his victory – amidst all the rich narrative possibility floating around that Sunday evening – was regarded as a bit of a letdown on both sides of the Atlantic (if not both sides of the Pacific).
The actual identity of the winner of that most drama-soaked of major championships was an after-thought, his name usually jammed in almost as a post-script in the various '06 retrospectives.
Mickelson didn't look for anyone else to blame - "I am such an idiot," he said afterwards.
Montgomerie, who was runner-up five times in major championships, admitted it in his autobiography that it was "the major near-miss that can still wake me up in the middle of the night."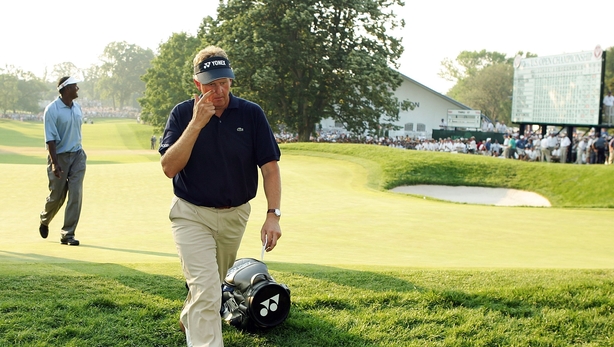 The sadistically inclined chaps who tinker with the US Open layout prior to the competition like to say that they get a bit miffed if they don't hear at least some grousing off the players.
Sometimes they get a bit more than they'd bargained for, like in Chambers Bay in 2015, which the players involved would have you believe was a 'Crazy Golf obstacle course' masquerading as a PGA Tour venue.
But the USGA course designers are usually unrepentant. The official line seems to be 'don't come whingeing to us if you can't hack it out there.'
Even by US Open standards, the challenge offered by Winged Foot is at the higher end of the difficulty scale.
They may like the winning score to be around par but judging by past scores at this week's venue, the best players can't even reach par.
In only one of the five US Opens held at Winged Foot down the years did the winning player break par - Fuzzy Zoeller in 1984.
Ogilvy's score of five over par was good enough to get the job done in 2006.
Hale Irwin, a classic US Open player if ever there was one, won in 1974. He was just seven shots over par. (One golf history companion book I read explicitly criticised the USGA's philosophical approach to the US Open on the basis that it allowed a 'greens-in-regulation' grinder like Irwin to win it so often).
Irwin's bullish mantra all week was to avoid any double bogeys - which sounds like a modest ambition that any double-digit handicapper could get behind, but it turned out to be a winning formula in the US Open in '74.
It was in the wake of the massacre in 1974 that the USGA's Sandy Tatum uttered the line that has emerged as their guiding credo - "We're not trying to humiliate the best players in the world, we're just trying to identify them."
Another indicator that we could see an over-par winner this week are the events of last year. Gary Woodland romped home in Pebble Beach, registering a -13 under par score.
In previous years, we've witnessed a correction to this type of scoring. Rory McIlroy won his first major at the 2011 US Open, destroying the field and the course at the Congressional. The next year, at the Olympic Club, Webb Simpson eked out a victory on one over par.
In 2017, Brooks Koepka equalled the record under-par score of -16 en route to his first major victory at Erin Hills.
The following year, the players again sounded off at the state of the greens at Shinnecock Hills. The redoubtable Mr Koepka did some moaning himself even as he went on to successfully defend his title, this time with +1 proving sufficient.
Evidently, the USGA fire into inquest mode whenever some McIlroy-style wonder-kid tears apart one of their carefully prepared courses.
Rough on the left is from a photo taken yesterday at Winged Foot. Photo on right is one I took at Merion US Open in 2013 which was pretty brutal. If anything it looks heavier at Winged Foot. After a cautious set-up at Pebble last year looks like a 'reversion to type' by the USGA. pic.twitter.com/OQ5kP2Nkt6

— Greg Allen (@gregallenRTE) September 15, 2020
The noises around this year's layout indicate we could be in for another high-scoring battle of wills at Winged Foot.
Patrick Reed has said it is "the most difficult US Open rough" he's ever seen. The greens are regarded as some of the most feared in the game.
Good length and accuracy off the tee has long been regarded as indispensable if you even want to think about competing for honours at a US Open.
Trouble is impossible to avoid at Winged Foot so players will have to scramble well around the greens – as Ogilvy did brilliantly to rescue pars at the 71st and 72nd holes in 2006.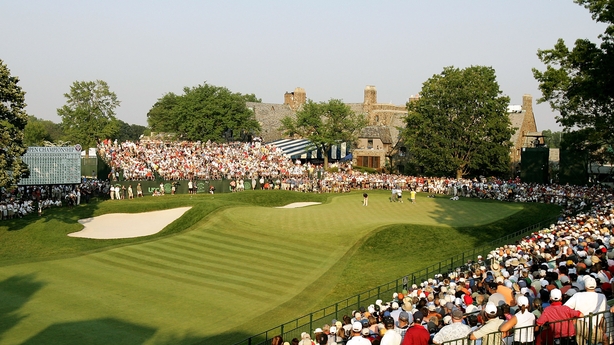 Koepka, the obvious choice of a player built for US Open golf, is absent from the field this year. McIlroy's form has been poor in 2020 and in any event, he tends to find winning easier when the scores go lower.
Of the Irish trio, Graeme McDowell, a former winner, thrives best in difficult environments, though, like Shane Lowry and McIlroy, his form has been patchy.
The obvious contenders are Dustin Johnson, whose form is brilliant even if his 'scrambling' often isn't, and Jason Day, whose US Open performances have showcased remarkable consistency though he has yet to win.
Either way, the history of the course and the mood music coming out of New York suggest it could be a bruising week.
When Irwin won on +7 in 1974, the headline on Sports Illustrated read 'Hale Irwin - Sole Survivor'.
Who can survive best this weekend?