The Open Championship, which had been due to take place this weekend before the coronavirus pandemic led to its cancellation, holds a special place in Paul Dunne's career history.
Five years ago, the Greystones golfer made his mark for the first time, tying for the lead for the first three rounds as an amateur.
Like many of his peers, the 27-year-old is about to get back into the swing of things on course - in his case at the British Masters next week - as the European Tour resumption continues.
But his hiatus was longer than most with a hand injury sidelining him for much of the last nine months.
Speaking to Greg Allen on Saturday Sport on RTÉ Radio 1, Dunne gave an insight into the injury and the effect it has had on him.
"The first time I really noticed anything was when I was going into the Q School last year and I kind of hit my hand a few weeks before and I'd lost range of movement in my wrist," he said.
"I couldn't set the club properly. There was a bit of pain but it wasn't bad pain. But it was more that it was affecting how I could hit shots.
"I couldn't lay the club down so I couldn't hit a draw. So when I got it checked, they said that they needed to operate on it."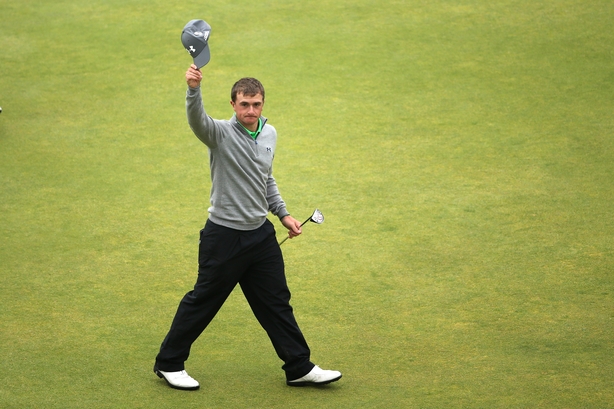 The early prognosis was that he would be absent for between three to six months, with the full recovery eventually coming at the latter juncture. It coincided with golf's suspension due to the coronavirus pandemic which meant there was no rush to return to competitive action.
"It was a straightforward surgery and I'm glad it's behind me," Dunne added.
"But it wasn't the worst time in my life to get it done as it turns out. When everyone else was missing tournaments, I was injured anyway so it's worked out pretty well."
Dunne is hoping to recapture the form which saw him win the British Masters in 2017, adding that a subsequent dip in form followed a period when he was "probably practicing too much".
"Some of the weeks, I wasn't playing that badly. It just felt like the breaks were going against you," he said.
"So I'm hoping to get back and find a vein of form that I had a couple of years before."
The British Masters provides a good omen for a positive return, although there is uncertainty beyond that about which tournaments he will be eligible for.
"It's going back onto the course I won on and I feel comfortable on it," he said.
"I'm in the next event as a past winner and then the next five, I'm not sure if I'll get in them. I'm hoping to.
"I know they're cutting off right now, I wouldn't be in them but I wouldn't be that far outside and the entries haven't closed.
"It looks like I'll either squeeze into them or out of them so I'll go over and do the six weeks in the UK anyway and play whatever I get into.
"Since I'm in the first one, it gives me a good option to play well and you can top ten it into the next week."