Paul McGinley admits that he is coming around to the idea of postponing the Ryder Cup until year as speculation grows that the USPGA are ready to move the showpiece event to 2021.
For the moment, golf's biggest event remains scheduled to get underway on 25 September in Whistling Straits, Wisconsin, but an announcement from the PGA Tour is expected this week, with all signs pointing towards a postponement until next year.
With the prospect of the tournament being played behind closed doors and the likes of Rory McIlroy and Brooks Koepka insisting that spectators are crucial to the event, former European Ryder Cup captain McGinley has changed his thinking on whether or not it should be postponed.
"I see both sides and the further I go down the road, the more I'm inclined to think that if it's possible to postpone it for a year, it is the prudent thing to do," he told RTÉ Sport.
"There's a huge commercial aspect as well you've got to remember. With no corporate hospitality, a potential impact on what the sponsors would pay, with tickets up to $500 each, you can imagine the economic impact of playing it without spectators for the PGA of America.
"Then you've got the players as well. There's a big call from the players, pretty much without exception, that they don't want to play if there's no crowds there.
"I think you're flying against the wind if you're going to try and play it this year.
"My view was a more collegiate one. The world's in an upside down place at the moment and any sport that goes on is gratefully accepted and maybe it might be the right decision to play but I was very much in a minority with that view."
McGinley, who is now a member of the board on the European Tour, explained that it's not a straight-forward decision to just push back the Ryder Cup by a year.
With so many moving parts and knock-on effects, it's not a decision that can be rushed and the Dubliner understands why it's taking so long for an announcement.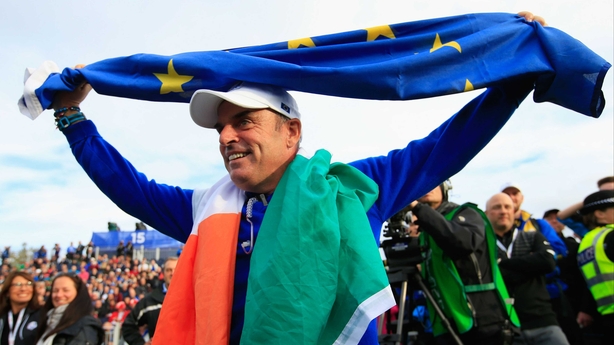 "It's very much an American decision, the American PGA are hosting the Ryder Cup and the home venue has a lot of say in these decisions, but it's not a clear-cut easy thing to do," he said.
"As you can imagine there's a lot of venues and future venues, right up to 2036 or maybe even 2040 that have been announced already and if we are going to move back a year all those contracts have to be renegotiated.
"You've also got the complication of the President's Cup which are in the odd Ryder Cup years and they have to be negotiated forward. There's a lot of moving parts going on here and it's not a straight-forward case of 'let's move it and carry on.'
"All the indications are that it will be postponed until next year but we're still waiting for confirmation from the Americans."
"The other worry that has to be considered is that if they do move it back a year, if it has to be postponed to next year, is it going to be clear then? Is there going to be a vaccine, are there going to be mass gatherings allowed?
"All of those complications have to be weighed up. It's not been an easy decision."
On of the knock-on aspects of a potential postponement could be the Irish Open moving into the spot that would be vacated by the Ryder Cup.
But even that is not without complications.
With the Ryder Cup scheduled a week after the US Open, there are fears that a 14-day period of self isolation for people arriving to Ireland from outside the country, could mean a very much weakened field for the Irish Open.
McGinley revealed: "I know that's very much in the plans of Keith Pelley, the Chief Executive of the European Tour, that the Irish Open is favourite to go into that date if the Ryder Cup is postponed.
"If these quarantine rules stay in place until the middle of September it's going to very difficult.
"You're only touching on the edges of the surface here in terms of how difficult and how complicated it is to get a schedule and tournaments off the ground."