Golf clubs around the country are re-opening this morning with new measures to meet the Government guidelines on how to ease the Covid-19 restrictions.
As golfers get back into the swing of things other sporting communities will be looking to see how golf, as well as tennis and athletics clubs, are re-opening in Phase 1, in preparation for when their time comes.
The first members to tee off at The County Sligo Golf Club, Rosses Point, are among the 20% of the club's members to live within 5km of the club.
While the course is open the shop, clubhouse, locker rooms, bar and restaurant all remain closed. Golfers must avoid touching the flag stick and must also ensure they have sufficient balls and tees.
County Sligo Golf Club general manager David O'Donovan was on the course to welcome members this morning.
The timesheet for the club went live last Wednesday at 9am, and the championship course filled in three minutes and seven seconds.
"As we are in the fortunate position to have 27 holes, the 18-hole Championship links and the Bomore 9-hole links, we were able to accommodate 150 members on each course.
"We have put in an 8am start each morning with the last tee time at 7.45pm, this is a taking into account the Government guidance of three players per line at 14-minute intervals. We open an hour earlier on Saturdays and Sunday, so we can accommodate 12 more golfers on each course," said O'Donovan.
On average up to 55% of the club's annual business is with overseas visitors, but the general manager said they will have to adapt this year.
"We've had a huge hit this year with the fact that there's going to be no visitors here basically for the year.
"[That] is basically what we budgeted for at this stage, and the losses of the club are somewhere in the region of about €600,000. And we rely very heavily on our members, so our members now are going to have to basically foot the bill for the costs and keep us open for the year so it's going to be a tough year," he said.
He added: "We put plans in place to get us through the year, and you know, our American business or European business or all our international business is key to us.
"But now we have to rely on the Irish business so once we're open for Irish visitors in phase three, and we look forward to welcoming some Irish visitors here between now and the end of the year and hopefully that will help them help us get through the year safely."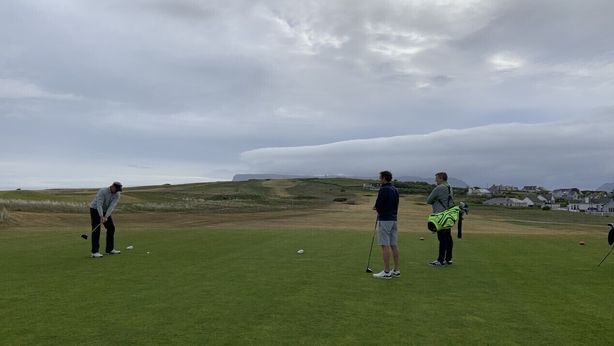 Local members David Dunne,Tom Forde and Shane Flanagan were the first three members to tee off this morning, on a fresh overcast day in Rosses Point.
Mr Dunne said everyone has missed out on lots of things over the last few weeks.
"Golf is just one of those things we've missed out on. This is a small community here in Rosses Point, where we're surrounded by the beach and the golf course. It's one of our main things, it's the heartbeat of the community and today it's a great day to be back on the golf course and be able to go back onto the beach and have a swim," he said.
Not all members will be able to get out to play a round this morning, only those like Dunne and Ford who live within the 5km limit.
"Well, I just feel that the pandemic is so serious that people have to have very clear advice. And I think we've been very lucky with how it's been handled. So we just have to stick with it.
"Unfortunately there will be some people who are just lucky enough to live within 5km and for other people that will be three weeks' time and we just have to follow the advice and do our best," said Mr Ford.
For today though the three friends are delighted to be able to tee off again.
"So definitely, we're three good friends who play a lot of golf together and we're just lucky to have the opportunity to get back out. I'm really looking forward to the camaraderie but also there will no doubt be a few side bets," he said.
The Stormont Executive confirmed today that courses in Northern Ireland can reopen from tomorrow, 19 May, in line with protocols released by the Golfing Union of Ireland that are broadly the same as those in the Republic.
Meanwhile, the R&A has launched a £7m funding package to help golf in Britain and Ireland deal with the impact of the pandemic.
The R&A which governs the sport outside the U.S and Mexico and organises The Open, golf's oldest major, said the fund will be aimed at national associations and other affiliated bodies.
The R&A said it is working with national associations and other selected organisations, with each body being responsible for controlling and allocating its share of funding.