In a couple of months, Graeme McDowell will be celebrating the 10th anniversary of his first major win at the 2010 US Open.
Normally, he would have many events and tournaments to choose from as late spring and the summer months roll around.
But like every sportsperson at the moment, the Northern Irishman has to bide his time as the global restrictions due to the coronavirus pandemic remain largely in place.
Having played in four Ryder Cups to date, selection in Padraig Harrington's Europe team for September remains one of McDowell's goals for the year.
But there is still an element of uncertainty around this year's tournament given the unpredictable progression of the pandemic globally, with a possibility that it could be played behind closed doors depending on how the months to come evolve.
However, in McDowell's view, the Ryder Cup without fans is scarcely imaginable.
"Obviously looking towards the Ryder Cup this year at the end of September, it's still on the schedule somehow," he told RTÉ2fm Game On, coincidentally on the seventh anniversary of his second win on the PGA Tour when he triumphed at the 2013 RBC Heritage tournament in South Carolina.
"Padraig Harrington's the captain and I'd love an opportunity to play for Padraig, [and in] another Ryder Cup, it would be very special.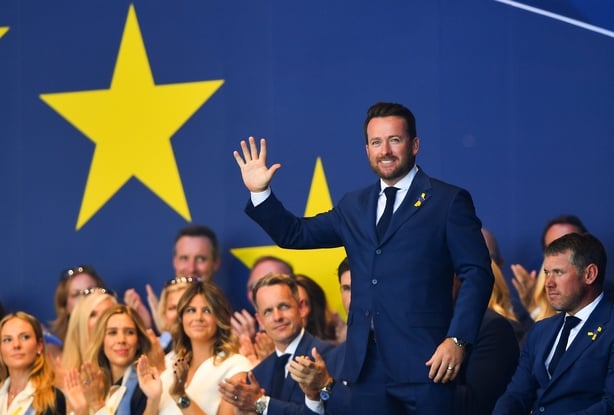 "There is a bit of a debate going on right now whether that Ryder Cup could be played without fans.
"It would be an incredible prospect to see a Ryder Cup played behind closed doors. My own personal opinion is that the Ryder Cup, of all the golf tournaments in the world, probably the only one - that and the President's Cup - that doesn't work without fans. It really brings so much to the atmosphere and they are what it's all about.
"The partisan nature of the fans, the home advantage, the noise, the Ryder Cup for me just doesn't work without that fan interaction."     
But he added that if it were to go ahead without fans, "it's because of the TV spectacle that it is".
"It would stand alone as a phenomenal golf event but there is just something interesting when you walk onto that first tee at a Ryder Cup and you stare across at the guy you're playing against or the two guys you're playing against," he continued.
"The crowd just bring the buzz and I've never hit tee shots in my life feeling the way I feel at a Ryder Cup. You're just so fired up and you're so pumped up."
McDowell's European team-mate and close friend Rory McIlroy is in agreement with him and speaking on Instagram Live, called for the tournament to be delayed until 2021 rather than be played behind closed doors.
The World number one said: "I have a pretty strong view on this and I get the financial implications for everyone involved, there's a lot that goes into putting it on, but having the Ryder Cup without fans? For me it's not a Ryder Cup.
"I would much rather them delay it until 2021 at Whistling Straits than to play it without fans and that's from a European going to America, knowing that I'm going to get abuse.
"Obviously it would be better for Europeans to play without fans because we wouldn't have to deal with some of the stuff that you have to put up with but at the same time, it's not a Ryder Cup, it wouldn't be a great spectacle and there'd be no atmosphere.
"If it came to whether they had to chose between not playing it and playing it without fans, I'd say just delay it until 2021."
While the Ryder Cup is further down the road for McDowell and co, the fact that the PGA have given a more concrete return date of 8 June for closed door events has granted him more clarity and motivation to go back training.
"I was on permanent holiday for a little while and last few weeks I've straightened it out a little bit. I've been training a little bit and practicing and now that we have a schedule starting to lay out in front of us, it's seven weeks until I jump on a plane hopefully to go and play the first event in Dallas."
Referencing this year's Dubai Duty Free Irish Open which he was due to host, McDowell admitted he was disappointed that it had to be postponed but added that it is "irrelevant" in light of the current challenges people in all walks of life are facing right now.
But he is also open to staging it later in the year, adding: "Hopefully we can slot it in sometime later in the year".