Lee Westwood is one of those golfers who was certainly good enough to win a major. He is only 47, so he still has time.
In this period of downtime caused by the coroanvirus crisis, there are indeed moments to reflect.
Such reflection, however, is often a whirl of emotions as one laments missed opportunities or curses bad luck. For Westwood, there seems to be the contentment of not having any negative thoughts on why he hasn't won any of golf's four majors.
"I haven't won a major but I've learned to ignore that now," was his measured response when he spoke on 2fm's Game On.
"You try and make the decision to ignore it but it crops up. It's then about training yourself to make that decision to ignore it. I have been to a psychologist and he has given me a better and a different way of looking at things.
"I go out now to enjoy myself, not to worry about the next shot. I love what I do and I have been doing it for 28 seasons."
And what the Englishman would love to do next is captain the Ryder Cup team. As things stand, Westwood would qualify as a player for this September's event - currently standing ninth of the ten automatic picks.
Thoughts, however, are turning to the staging outside Rome in 2022.
"I'd love to be the captain - sooner rather than later," he revealed.
"I would love to do it in Italy in a couple of years time, I want to do it on home soil. I've played under ten captains and have been a vice-captain to Thomas Bjorn.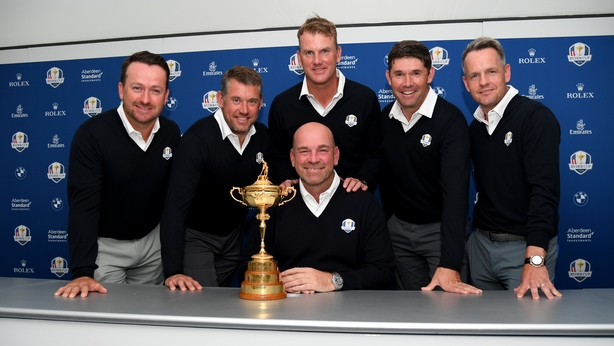 "As for the captains themselves, Paul McGinley, Berhard Langer and Thomas have all been great. I learned a lot from them. There is so much more for the captain to know now, so much statistics, so much profiling."
In a wide-ranging interview, Westwood also spoke about the rescheduling of three of the majors for 2020 and the difficulty that the new date for the USPGA has for him personally.
He continued: "I'm disappointed about the cancelling of Open championship but they have made the right decision - the other three have been rescheduled for August, September and November. It will be different going to Augusta in November. I'm sure it will still be green and pristine, with not a blade of grass out of place. Somebody will still be excited to slip that green jacket on on that Sunday night. 
LISTEN TO THE FULL INTERVIEW
We need your consent to load this SoundCloud contentWe use SoundCloud to manage extra content that can set cookies on your device and collect data about your activity. Please review their details and accept them to load the content.Manage Preferences
"I was talking to a friend who lives in Atlanta and they said it will be dark at 5pm, chilly in the morning and a little bit chilly towards the evening. They will probably tee us off early because of the short daylight. Playing the first hole so early in the morning will be a nice drive and a rescue for an old boy like me!
"Look. it will be nice to get back playing golf and giving those at home something to watch. 
"I have been going crazy, spending a lot of time on the peleton bike trying to keep my weight in check because all  I feel like doing is sitting, eating and drinking. I'm now a master at jigsaw puzzles. I also sleep a lot. It's amazing how your body shuts down when there is nothing to do. 
"I have been having an interesting conversation with my fiancee now that our wedding clashes with the rescheduled date for the PGA Championship. It was going to be at Adare Manor. The week was all clear and free and now they go and put a major right smack in the middle of the week."