Paul McGinley believes the prospect of an Irish Open without spectators is a real possibility given the threat of the coronavirus pandemic.
The European Tour confirmed last week that the 2020 edition, set for Mount Juliet on the last weekend of May, is one of many events to fall foul of Covid-19, but whether it is postponed or cancelled remains to be seen.
With Rory McIlroy, Shane Lowry and defending champion Jon Rahm all agreeing to participate, it is a blow for the sport in the country.
Former Ryder Cup winning captain McGinley believes that if the tournament is to go ahead this year, which is very much in doubt, it may well have to be played behind closed doors.
"I think when we come out the other side of this virus, and we do start going back to what we used to call normality, I think it's highly unlikely that the government will allow mass gatherings of people," he told RTÉ Radio 1's Sunday Sport.
"So if the Irish Open is to go on at Mount Juliet later in the year, I think there is a very strong chance it will be without a mass gathering. That would be a very eerie place.
"I think all sports are facing that and we need to get our head around that reality."
The Ryder Cup, a competition close to McGinley's heart, is also a major doubt.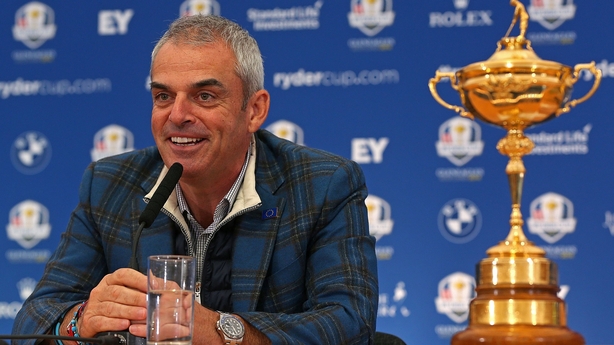 The coronavirus pandemic has already forced the first two major championships of the year, the Masters and the US PGA, to be postponed and some within the game have called for the same action for the 43rd staging of the Ryder Cup in September.
McGinley says however there is some wiggle room before the event at Whistling Straits needs to be called off.
"In order to build the infrastructure, it usually takes about four months, so there's time yet before they need to start cancelling anything.
"The big unknown, and this is where we need some guidance from governments, is what is going to be the likelihood of allowing corporates and 40 or 50,000 spectators onto a golf course?
"If they are not going to be allowed, then we can go right up until August before a decision needs to be be made.
"In terms of putting a team together, that's the easy bit. The players will be practicisng, a lot of them live in Florida and are able to play on a lot of the courses there. They are not being isolated to the extent we are here in Europe."