Rory McIlroy scorched up the leaderboard after carding another brilliant five-under 67 at the Farmers Insurance Open - the County Down golfer is three shots behind Jon Rahm on nine under, with Tiger Woods a further two shots back after a strong front nine.
McIlroy can end the weekend as the world number one if he wins the season-opening tournament and he has given himself a shot at doing just that after moving to nine-under for the tournament, three off clubhouse leader Jon Rahm.
Having opened with a 67, the Northern Irishman stuttered to a one-over 73 on Friday that looked like it had left him with too much to do.
The four-time major winner has never tasted victory in any of his season-opening events from 12 attempts, but an excellent Saturday showing has set him up for a final-day rattle at taking the title in San Diego and thus reclaiming the top spot in the world rankings.
Rahm chipped in for a birdie on his first hole on Saturday and holed for eagle from 111 yards on the next, going on to finish the day on 12-under par after a seven-under 65.
The Spaniard said having won the tournament three years ago would make no difference to him on Sunday.
"The only thing it's going to do is keep me focused, no matter how good I'm playing, knowing that somebody can come and do the same thing," he said.
American Palmer is in second place on 11-under after after a 71 in the third round, which started two hours late because of heavy fog.
Woods, seeking a record 83rd PGA Tour victory, sent a proverbial bolt of electricity through the large gallery as he charged within striking distance of the lead with four front nine birdies.
But he struggled on the more difficult inward half and carded three-under-par 69 to end the day equal 14th, five strokes behind Rahm.
"Three-putted (hole) 11 and just never really got anything going coming home," said Woods, who had to grind to avoid dropping a shot at the par-five 18th, where he sank a 15-foot putt to salvage par.
Woods has won eight times at Torrey Pines and acknowledged he would need a special Sunday to make it number nine.
"Got to go out there and post a low one tomorrow, still got to make a bunch of birdies," he said.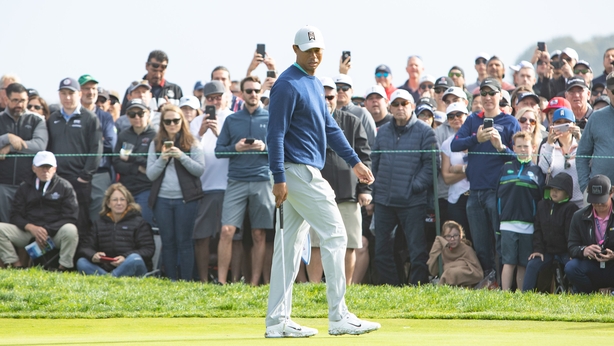 After his round, McIlroy gave his views on the World Golf Group's (WGG) plan for a new global tour that would comprise 18 yearly tournaments featuring 48 of the game's top players.
In a detailed statement released Saturday, the new group looking to rival the PGA and European Tours said each tournament would have prize money of $10 million.
No players have publicly committed to the proposed tour, though McIlroy said on Saturday discussions with players had been going on for years.
"Those guys have been talking to a few of us for six years," he told reporters.
"It's a hard one ... but I love the PGA Tour, I love the way golf is set up right now. I certainly wouldn't want to lose what's been built in the last 40 or 50 years, tournaments like this.
"I'm still quite a traditionalist, so to have that much of an upheaval in the game I don't think is the right step forward.
"But I think it might be a catalyst for some changes on this tour that can help it grow and move forward and reward the top players the way they should be."