The Ladies European Tour have approved a merger with the LPGA that could see their members fast-tracked into tournaments in the United States.
LET players voted their support for the joint venture partnership on Tuesday during the Tour's annual membership meeting in Spain.
The partnership aims to immediately offer LET members more playing opportunities on the far more lucrative LPGA, which this season had a total prize fund of approximately €65m compared to around €14million on the European Tour.
LET board chair Marta Figueras-Dotti said: "Two teams, joining for one common purpose, will create opportunities we simply could not have pursued on our own.
"At its foundation, this joint venture is about creating opportunities for our members to pursue their passion, and their careers as professional athletes.
"In just the 60 days since we began working on this joint venture, we have already seen a dramatic impact on our LET Tour schedule - an impact that will be a positive result for virtually all of our LET members."
The two bodies say they share a common vision to strengthen the presence of women's golf in Europe.
The venture, which will be jointly managed by the LPGA and the LET, will seek to fast track an expanded LET schedule.
This year's LET schedule includes 20 official events in 13 different countries. Eight of those events are in Europe, including two major championships - the Evian Championship and the AIG Women's British Open.
LPGA Commissioner Michael Whan said: "This is an exciting next step for the LPGA's mission to provide more opportunities for women in this game.
"Over the past 10 years, the LPGA has had tremendous success partnering with other golf stakeholders, including the USGA, PGA Tour, European Tour, R&A and PGA of America, to enhance opportunities for women worldwide.
"We are thrilled to deepen our relationship with the Ladies European Tour in an effort to create the strongest possible women's tour in Europe.
"We have experienced incredible growth in women's golf in the US, and this is an extraordinary opportunity to accelerate and expand the game in Europe as well. I'm excited that this is something we will build together, with the LET."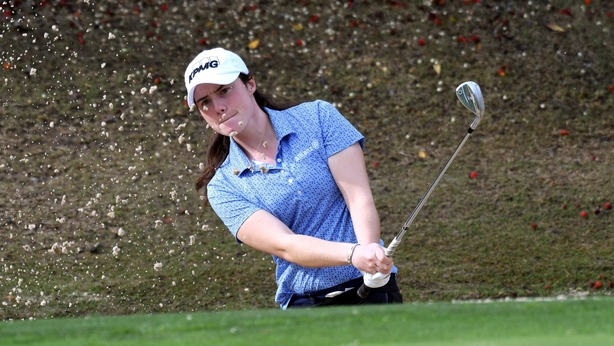 Cavan native Leona Maguire and Antrim's Stephanie Meadow will both play on the LPGA next season.
Earlier on Tuesday, it was announced the Ladies European Tour Order of Merit will be renamed the Race to Costa del Sol and offer a bonus pool of €250,000 from 2020.
The top player on the money list at the end of the season will receive an additional €125,000 with the runner-up collecting €75,000 and €50,000 euros going to the player who finishes third.
On Sunday, Jon Rahm secured a bonus of $2m (€1.8m) for winning the European Tour's Race to Dubai.
As part of the deal, the Andalucia Costa del Sol Open de Espana Femenino, which gets under way on Thursday, will see its prize fund double to €600,000 from 2020.
We need your consent to load this SoundCloud contentWe use SoundCloud to manage extra content that can set cookies on your device and collect data about your activity. Please review their details and accept them to load the content.Manage Preferences
Listen to The W on Apple Podcasts, SoundCloud, Spotify or wherever you get your podcasts.