Leona Maguire says it was a "dream come true" to claim a LPGA Tour card last Sunday week.
The Cavan golfer came home 33rd at the Volunteers of America Classic in Texas. It was enough to claim seventh on the Symetra Tour list, with the top ten guaranteed their tour cards for next season.
Growing up, Leona was pushed all the way by her twin sister Lisa. The pair turned professional in the summer of 2018, and this year Leona played 16 tournaments, claiming a total of $92,517 (roughly €84,000) in prize money.
Speaking on RTÉ's The W Podcast she said, "It's something I've worked the last 10 or 15 years for.
"To be able to call myself an LPGA player now is a pretty nice feeling."
"Growing up, going to the Slieve Russell, we were playing matches against each other. I'd be hitting balls in the snow, and having dad collect them.
"That's what it was all for, it was all building up to this."
The sisters had shown great promise in their teens, with Lisa seen at the time as being the more precocious talent than her sister, who is 15 minutes younger than her.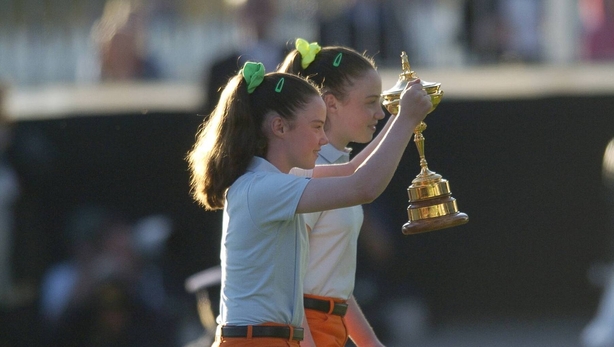 But it was at College at Duke in North Carolina that Leona excelled. She spent a record 135 weeks as the world number one amateur golfer.
"Over the years a lot of people asked 'When is it going to happen? When was I going to turn pro?'.
"Deciding to go to college delayed that a little bit. This was always the plan and, as they say, it's nice when a plan comes together."
Leona's parents, Declan and Breda are teachers, and the Maguire twins were inspired to take up the game by their dad.
"He played every Saturday. He was big into football, and big into golf when were growing up.
"Over the summers, that was when we started. Initially it was three clubs; a seven iron, some sort of wood, and a putter.
"We didn't get any more until we'd reached a certain level. I remember dad driving up to Blanchardstown to get our first pair of golf shoes. That was a big moment.
"We were only getting them if we were going to use them. It snowballed from there."
We need your consent to load this SoundCloud contentWe use SoundCloud to manage extra content that can set cookies on your device and collect data about your activity. Please review their details and accept them to load the content.Manage Preferences
Listen to The W on Apple Podcasts, SoundCloud, Spotify or wherever you get your podcasts.