Lee Westwood believes leading The Open on home soil will intensify the pressure on Shane Lowry "100 times".

Englishman Westwood shot 70 on Saturday to take a tie for sixth place at eight under par heading into Sunday's final round at Royal Portrush.

County Offaly man Lowry boasts the only sub-200 score after three rounds, with an outright lead of 16 under thanks to a stunning eight under 63.

Golf stars and supporters treat the island of Ireland in its entirety, and such was the support for Lowry that almost 15 minutes after he had completed his round, a packed 18th hole grandstand was still chanting his name.

Westwood expects the forecast driving rain and wind to level up Sunday's decisive skirmish though, and is anticipating a nervy day for home favourite Lowry.
"Shane's in the lead, he's in a big lead, but no lead is big enough when the weather gets bad on a links course," said Westwood, who holds a record nine top-three finishes without winning a major.

"And he's going to have an awful lot of pressure on him hitting in front of a home crowd.

"So he'll be nervous, it'll be a tough long day for him: the last day of a major is always long, but it's going to be 100 times worse for him.

"I'll just go out and try to play well. You can still shoot a low score around this golf course.

"It's such a good design that even in a really strong wind if you hit good shots you can still make birdies.

"I'd like to be a bit closer but I'm still in there with a chance, I think.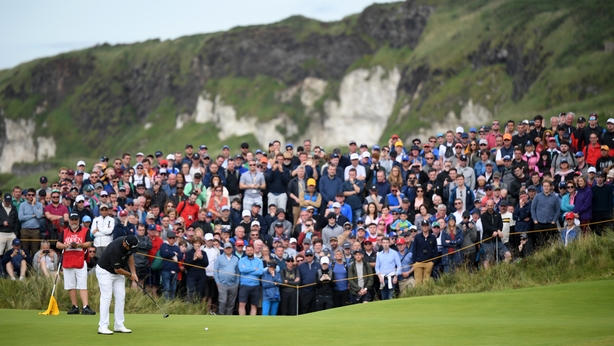 "It was a good day, I really enjoyed it. I got off to a good start obviously, with birdies on two, three and four.

"I hit a lot of good shots after that but just didn't capitalise. I hit a poor shot at 10, I should really have backed off the tee shot, used my experience.

"I think Shane hit one in close on nine, the crowd put me off a little bit, so my fault for not resetting.

"But other than that I played nicely, hit a lot of fairways, a lot close, a lot of putts that could have gone in."

Westwood dropped a shot at the 10th, edging away with a bogey after extended deliberation about how to negotiate finding heavy rough.

The 46-year-old insisted he never considered pushing for a free drop, intent on prizing the spirit of the game over personal gain.

"It just embedded in the ground, but I couldn't have played a shot even if it had been sat on the tee," said Westwood.

"So just accepted a penalty and took it back in line.

"I could have had a free drop if I thought I could have hit a shot, but if it hadn't have been plugged and in the same place I couldn't have in my own conscious have played a shot. So I took a penalty.

"It's against the spirit of the game, and I'm not interested in gaining an advantage in a situation like that.

"I actually said to the rules official 'there's no relief for embedded balls in The Open is there?'

"And she said 'well actually we've changed the rules'. So I was just going to go and drop it anyway. So they brought another rules official and he explained the rules.

"And I said 'no I wouldn't have been able to hit it really'. I could have faked it and said I'd hit it left hand over my shoulder.

"But you just let your conscience be your guide in situations like that."