Rory McIlroy admits that he over-prepared for last year's US Open and is planning a more straightforward approach to this year's event, which starts at Pebble Beach on Thursday.
And having put in a huge amount of preparation for the Shinnecock event, the four-time major winner then found himself overthinking his game during a torrid opening round, where the Holywood native shot a remarkable ten-over 80.
McIlroy had played himself out of contention following a disastrous start to the round where he found himself six over par after just five holes, and finished the day 11 shots behind a group of four players.
That leading quartet were the only players to go under par on that tough opening day in Long Island, and even eventual winner Brooks Koepka shot a five-over 75.
In fact, McIlroy found himself 14 over par by the turn on the Friday, and when his form finally hit – he shot four under for the back nine – it proved too little too late, as he missed the cut by two shots.
"I was thinking about where not to hit it rather than thinking about where to hit it," said McIlroy, speaking to RTE Sport's Greg Allen at the Monterey venue.
"I over-prepared for Shinnecock last year. I played so many practice rounds, I walked the golf course at night, I was really trying to figure out exactly what I wanted to do.
"And that can make you tighten up a little bit, because you are trying to be so precise and golf is an inexact science.
"You have to know the golf course and have to have a game-plan but that is it, you go out and make good committed swings and you do that over and over again, and at the end of the week, you won't be far away."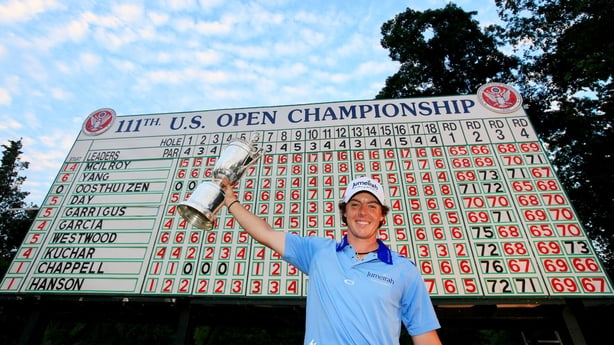 Of course, McIlroy is coming into the tournament in blistering-hot form following his emphatic victory at the RBC Canadian Open last weekend, where he won by seven shots after a final round 61.
And apart from the confidence that comes with winning on the PGA Tour, the world number three felt that he also put in some invaluable work on his golf game ahead of the second major of the year.
"It is always great to see that your game is rounding into form at the right time.
"Trying to peak for these big events is, as I said before, an inexact science, sometimes you try things and it works and sometimes you try other things and it does not work.
"So playing last week was really a good move coming in here. Pebble is one of those places that we know the golf course and what the set-up will be like, so you just need your game to be sharp.
"You need to be thinking well and you need to be executing and I think I got a lot of good practice at that over the weekend."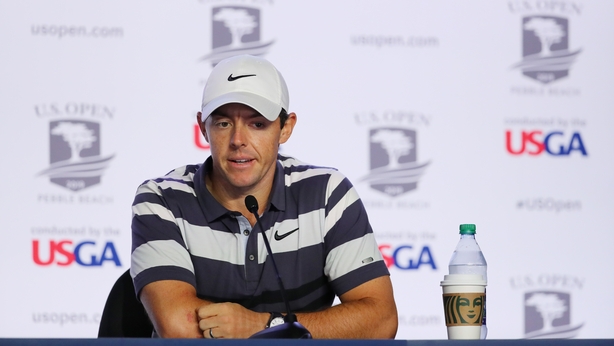 So looking ahead to the opening round, where the 2011 winner will tee it up alongside Ryder Cup team-mate Jon Rahm and Australia's Marc Leishman at 3:51pm (Irish time), McIlroy is not putting pressure on himself to go low, but rather play with that aforementioned confidence to get into the tournament.
"I'm not going to put myself under pressure to get a fast start, but if your game is there and you are feeling it, why not, take advantage of it and start off well.
"A common theme of my major wins is starting well and you look at what Brooks did [in the PGA] at Bethpage and it was the same thing, he started off so well and basically, he was in command of the tournament over the weekend.
"So the plan is to go out and play a solid round of golf and get myself into the tournament right away."
The event returns to the icon Pebble Beach for the first time since Graeme McDowell won the coveted cup back in 2010, and despite issues with the USGA over recent US Opens, McIlroy admitted that he would be happy if they played the US Open on the Monterey peninsula every year.
"It is a wonderful venue for a golf tournament, I would be happy if they played the US Open here every year.
"I think it is a very traditional test of golf. While a couple of fairways are quite generous for the most part, they are quite narrow and you have to hit good shots to hit the fairways.
"They are probably the smallest greens that we play all year so have to be very precise with you iron shots and if you are not your short game will have to be razor sharp.
"It's a great test of golf and I think you will struggle to find one person who says they don't like Pebble Beach."
The two other Irish players in the field this week, Shane Lowry and Graeme McDowell, are also bringing their A game to California this week having finished tied second and eighth respectively in Canada.
Lowry goes out at 4:13pm (Irish time), playing alongside England's Tyrell Hatton and Gary Woodland from America, while the returning champion McDowell has been placed in the marquee group at the same time, starting on the tenth hole, in the company of fellow major winners Dustin Johnson and Phil Mickelson.